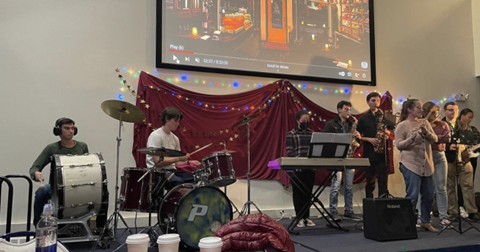 The beginning of the fall semester at Pace University brings about plenty of new activities for students to enjoy and partake in. From Sports games and club events to busy classes, there is a plethora of opportunities to keep students occupied. Among these opportunities is the Pep Band.
The Pep band, directed by Phil Monterio, is a student band that appears at most home football and basketball games throughout the season. The Band is also responsible for playing live music for events such as Open House and Convocation.  
Assistant Band Director Lorenzo Osorio strongly encouraged people to join.
"I think anyone who plays an instrument should join. We have a lot of fun." He said. "It's not only about playing good music. It's about the community and the people you meet through the band."  
When asked if he recommended students of Pace to join, Lorenzo simply answered, "100 percent." 
Pep Band meets every Friday from 6:30 p.m. to 8:30 p.m. for rehearsal in the Goldstein aerobics room. Students can follow them on Instagram at @pace_pepband or reach out to [email protected] for more information.