Swapping Campuses: When it's Worth the Commute
Hang on for a minute...we're trying to find some more stories you might like.
A unique quality and selling point of Pace is that its two campuses may be just 50 minutes apart, but there's vastly different environments. No matter which campus students live on, or commute to, it is possible and even encouraged, to take classes on the both campuses at some point.
There are many reasons why students may want to swap campuses for a day, or a few days out of the week. Classes and programs have minimal overlap between campuses and are usually campus specific. Students can choose to take classes at the opposite campus for general interest in specific classes, or they can go as far as pursuing an entire minor on the opposite campus.
"I absolutely love the city, but chose the Pleasantville campus for my role on the cross country team," freshman Ben Dengler said. "But after running season ended, I had more free time and decided to take some classes in the city."
Traveling between campuses is a financial and time commitment. For Westchester commuter Anna Holland Bartsch, New York City is her primary campus of choice. Throughout her time as a student at Pace, Bartsch took various classes on both campuses.
"It is an important experience… Even if you are already a commuter, it is important to have a commute to help you grow," Bartsch said. "You should always take all the opportunities your college gives you."
Two campuses double the amount of opportunities for students who are actively seeking them out. Although Eric Carosella does not prefer commuting between campuses, he found good reason to commute to the Pleasantville campus from the city for the past two years. He began his college career on the Pleasantville campus, transferring to the city campus in his sophomore year.
"The class I'm currently taking [on the Pleasantville campus] is Story Idea Development, as well as Producing the Documentary," Carosella said. "In my documentary class, you are a part of a film project that takes an entire class to produce and you build long lasting relationships with those involved."
Deciding if the commute is worth it is relative to each student and their interests, but the only way to know if it is worth it is to know what both campuses have to offer. A simple way to do this is to check what classes are being offered on both campuses during registration to see if any of them strike interest.
"I would recommend taking a city class to my peers," junior Alyssa Chambers said. "It's a good way to get a feel of what both campuses are like and get the most out of what Pace offers."
About the Writer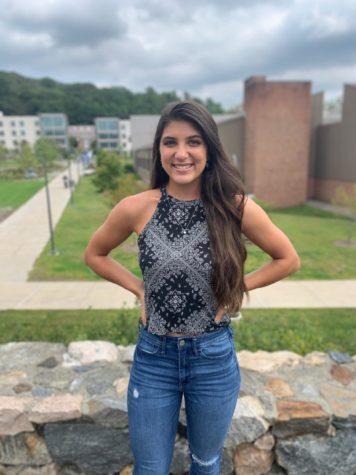 Christina Bubba, Editor-in-Chief
I am a senior Digital Journalism major with a minor in Public Relations. On campus, I am Editor-inChief of the Pace Chronicle, captain of the Cheerleading...