A&E Agent Educates Pace Students About the Necessity of Networking
A representative from A&E Television Networks visited Pace to inform Media Communications and Visual Arts (MCVA) students about potential internships and career opportunities with one of the leading media industry networks.
Danielle Martin, A&E's Director of Human Resources and a Pace alumna, returned to inform students of the importance of networking Wednesday evening.
"Networking, networking, networking," she stated. "You [students] are so fortunate that you have social media. You have the advantage to be able to reach out to people to learn and talk and network."
A&E is a $2.5 billion company that carries many other networks under its umbrella, including the History Channel, Lifetime, and VICE. The company has offices across the globe, in New York, Stamford, Los Angeles, Tokyo, Munich, Korea, London, and Rome.
The obvious appeal to working with the company is the reputation of insightful storytelling. According to A&E's career service website, the company's mission is "to develop the best creative environment" and to "tell stories that reflect the richness of our audiences."
Martin explained what an applicant needs to be hired under the prominent network.
"We're looking for the same things in terms of communication skills, writing as well as speaking – we like to see how you interact," Martin said. "You must have the ability to change, pivot, to be adaptable."
Throughout the presentation, the importance of finding alumni and building connections through billion dollar companies is left up to the student's responsibility. Dr. Maria Luskay, director of the Media and Communication Arts graduate program, emphasized this.
"If there is a specific place you would like to work at, you should find an alumnus," Dr. Luskay said.
Briana Cuttino, a Communications major, is looking forward to employing this motto of networking.
"Networking is really important," she said. "You could easily go online and find alumni that might work where you would want to work in the future"
Luskay said the positive reaction to the event and the information learned means that more opportunities like this will be scheduled soon.
"It's always great to have networking events," Dr. Luskay stated. "We think it's important for our students to get these opportunities, and we would love to see more of them come."
About the Contributor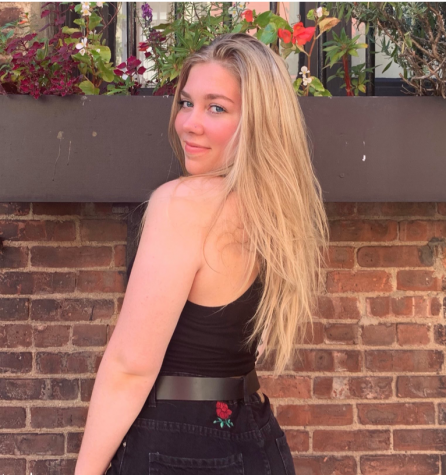 Sequoia Cumming, Editor In Chief
Sequoia Cumming is an honors-level sophomore studying for a major in Digital Journalism and a minor in Sports Broadcasting. While starting as a contributing...