Holiday festivities near Pace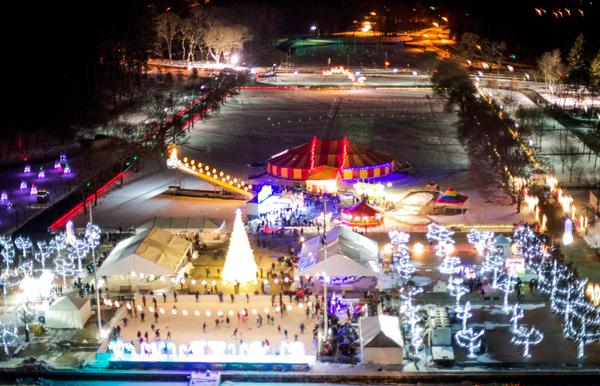 The holiday season is fast approaching and there are plenty of ways for students to get in the spirit before heading home for break.
Briarcliff Manor will be hosting its annual Celebration of Peace, Community Fellowship, and the Winter Holiday Season bonfire and sing-along in Law Park on December 8 at 4:30 p.m. The event will feature live music, kids crafts, hot chocolate, cider, cookies, and a chance to sing along to both Christmas carols and Hanukkah songs.
The Jacob Burns Film Center will have screenings of It's a Wonderful Life on December 14 and 15 at noon and on December 19 at 7:00 p.m. It is an opportunity to enjoy seeing a classic on the big screen.
Kensico Dam Plaza in Valhalla has reopened its Westchester Winter Wonderland. Access to the ice rink, skate rentals, rides, and circus-style performances is included with the price of admission. As guests stroll between attractions, they can admire gorgeous light displays and stop by one of the park's numerous concessions stands.
For those looking to buy gifts for their loved ones, Pleasantville is home to several charming local businesses that offer an array of interesting and unique products. Take a walk around and stop by The Village Bookstore, the Rhododendron, the Glass Onion, Kimberly House Itd, Lil Chocolate Shoppe, or any of the other establishments based right outside campus. For those looking for something specific that cannot be found in town, the malls in White Plains are only a quick train ride away.
The Westchester County Center in White Plains is holding performances of The Nutcracker, featuring the Westchester Ballet Company. The shows will take place from December 13-15 and ticket prices range from $15 – $35 each.
For those who will still be in the area on December 22, the Mount Pleasant Public Library is holding an instrumental holiday concert from 3:00-4:00 p.m. Both classic and contemporary pieces from U.S., Puerto Rico, England, Wales, Ireland, France, Italy, Ireland, Spain, and Eastern Europe will be played on the guitar and mandolin by Judy Handler and Mark Levesque.
Whatever you celebrate and however you choose to celebrate it this year, we at The Pace Chronicle wish you the best and hope you have a fun, festive, joyous and safe winter break.