Professor Manivannan honored at Academic Achievement banquet
After teaching at Pace for only two years, Professor Vyshali Manivannan has certainly made an impact. Manivannan, who works in the Department of English and Modern Language Studies, won the "Honoring Excellence" award at this year's Academic Achievement banquet. She received over forty student nominations to receive this award. 
Manivannan became a published author at the age of only fifteen when she wrote a science-fiction novel called Invictus. She previously worked at Rutger's University in the Department of Journalism and Media Studies, where she won the award for Distinguished Achievement as a part-time lecturer in 2018. At Pace, she was nominated for faculty of the month in April of  2019 at Pace and currently works as an advisor to Alinéa, the on-campus literary journal. Her work has been published in literary magazines such as The Paris Review, The Fanzine, DIAGRAM and more. 
This semester, Manivannan is teaching three sections of ENG 120, Critical Writing. 
"I felt incredibly humbled and honored to win this award," Manivannan said. "Being nominated by students for a teaching award really is the highest honor since they're who I work within the classroom every week. I was truly blown away to know my teaching work has mattered to that many students. Especially since I teach required writing courses, I'm touched by the fact that so many students appreciated working with me as much as I enjoyed working with them."
Manivannan credits her late father, who was a distinguished physics professor, for teaching her the foundation of her career in education. 
"I find teaching in and of itself to be a deeply rewarding experience, but being recognized for it by my students and colleagues makes it even more of one," Manivannan said. "My late father was a physics professor with a distinguished teaching career, and since I learned the foundations of my pedagogy from him, receiving this award feels like I'm honoring him too."
Currently, Manivannan is working on a nonfiction manuscript and other shorter pieces that explore vicarious trauma and Sri Lanka's war. She also is a Ph.D. candidate at Rutgers University and is working to finish her dissertation on living with fibromyalgia and how chronic pain is constructed by Western concepts of pain, biomedical imaging and medical rhetoric. She is aiming to receive her Ph.D. in Journalism and Media studies this coming Fall.
"I strive to ensure that all my students leave my classroom with the ability to identify and critically engage with the complexities of the world around them, and to skillfully articulate their thoughts in writing," Manivannan said. "I'm always excited to see how they remain active participants in their learning, discover their own voices, and cultivate a sense of curiosity, in addition to becoming stronger writers, even after the course ends."
About the Writer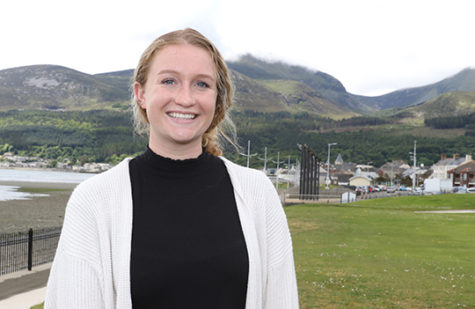 Alexis Nieman, Media Editor
Alexis is a junior Communications major and Public Relations minor. At Pace I am the News Editor for the Chronicle and a member of Entrance One PR club....