Pumpkin Spice is in the Air… and so is Mold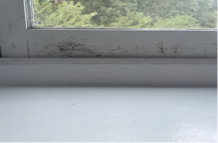 Fall is in the air, and for some dorm residences, so is mold. North Hall, Martin Hall, and the townhouses are all experiencing a mold issue. Residential Life believes that a combination of "excessive rain from two major storms earlier in the month, elevated humidity levels, faulty air conditioning units, and windows that were not functioning correctly" caused this newfound issue.

Speaking as a resident from North Hall, I have been keeping close tabs on this situation. I have noticed an increased presence of maintenance workers doing construction on my floor. Individual rooms have been sealed off with blue tape. The second floor common room has also been out of commission for a couple weeks now.

An email was sent out from Housing Operations to the residents of North Hall. In it, Housing Operations stated that they had hired a third-party hygienist to consult on the safety checks for the dorm rooms. The building as a whole showed irregular levels of humidity, but was overall not hazardous to student life. Each room also received an individual inspection for mold to ensure each resident's safety.

Many residents of North Hall at Pace University Pleasantville Campus became frustrated after being asked to relocate to another dorm room due to an outbreak of mold on September 16. Students were given a two-hour time frame, in which they must move all their personal belongings into another room with little to no assistance from the institution.

North Hall resident, Christopher Stissi said, "I got a call from Pace, and they told me I had two hours to move out because my room had mold." He continued by saying, "I was frustrated and upset because I am paying all this money to live here, and this happens." I then asked him if he was offered additional moving assistance and he replied with, "No, I was not offered hands-on assistance." Many residents are curious as to why the mold issue was not addressed before move in. The answer is not necessarily simple. Hurricane Ida left behind an appalling amount of moisture that caused many buildings in New York to experience an outbreak of mold. Jerry McKinstry, Senior Director of Public Affairs at Westchester Campus commented on the cause of mold in North Hall by saying, "The visible mold growth can be attributed to a combination of factors including excessive rain from two major storms earlier in the month, elevated humidity levels, faulty air conditioning units, and windows that were not functioning correctly." Some residents were afraid that their health might be harmed by exposure to mold. Jerry McKinstry's reaction to this concern was "Students in those rooms were relocated immediately, and as with any potential situation involving health, we consult with University Health Care and our Office of Environmental Health and Safety." The most recent update given by Jerry McKinstry was, "As of Tuesday, September 28, 2021, mold abatement has been completed and there are currently no visible signs of mold in any of the rooms that required abatement."

According to the CDC, mold exposure can cause a variety of symptoms in people. Some experience stuffy noses, trouble breathing, and itchy eyes. As the housemates of one of the townhouses went to the Health Center to rule out COVID-19, they turned to their environment for a cause. Many believed that the air conditioner was behind their sudden illness because it was situated so close where they slept. When they checked the units, black spots lined the inside. Maintenance was called shortly after that, and the townhouse resident says that the workers found that their air conditioner was "filled with dirt". Since moving in, these residents had been breathing in dirty air. The black spots, however, were never explicitly confirmed as mold.

Residential Life is taking care of the situation. According to Aisha Moyla at Residential Life, "The air conditioning units have been replaced. The roof leaks in the building are being repaired with the roof replacement project that began on Wednesday, September 29. Facilities is fixing windows and has plans to replace others."
Residential Life has been incredibly responsive to the issue and with helping students. They are currently working with the students who had to temporarily relocate. 
"Moving supplies were provided and Facilities Staff helped move students to their temporary room assignment. Dry cleaning services were also offered to students for their bedding and clothes." says Moyla.
Of course, Pace has also taken the steps to remedy the situation. 
"Pace University retained a licensed mold assessor to investigate the situation. The inspector identified 11 rooms in North and Martin Halls as having mold and in need of remediation. Students in those rooms were relocated immediately, and as with any potential situation involving health, we consult with University Health Care and our Office of Environmental Health and Safety." 
The mold assessor as well as a licensed Mold Abatement Contractor,  have crafted and implemented a plan to remove the mold from the spaces immediately. Residential Life announces that as of Tuesday, September 28, the mold has been removed, and there are currently no signs of mold in any of the rooms that were highly affected. 
For students who want to take preventive measures against the mold, the CDC recommends a couple different things. The first is keeping the humidity as low as possible. The air conditioner on dry mode should help, but for extra security, a dehumidifier should definitely do the trick. The ideal humidity level is between 30% and 50%, so a dehumidifier will help maintain the amount of moisture in the air. Fresh air is the other big way students can prevent mold. Ventilation and air circulation disrupts mold growth.
It is important to also keep in mind that we are heading into allergy season. Pleasantville is located in an area that can experience high levels of allergens. There are many reasons besides mold that students can be experiencing mild cold-like symptoms. Regardless, if students are feeling unusually sick, or if their symptoms don't match with those generally associated with allergies, they are encouraged to stop by the Health Center and take a COVID-19 test.