Pace Students Explore the Importance of Civic Engagement In Washington, D.C.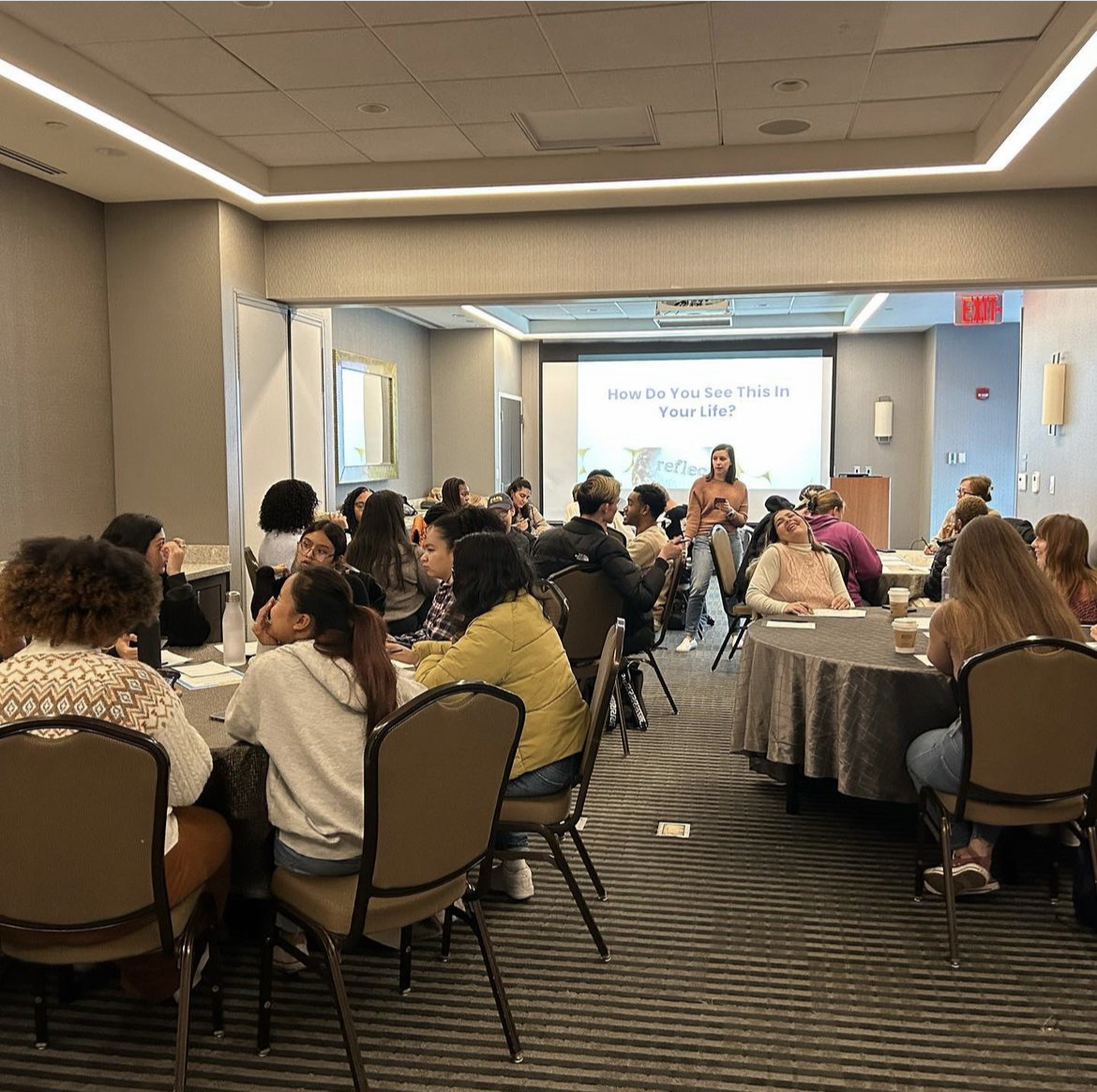 WASHINGTON D.C. – On Friday, February 17th, a selected group of twenty-eight students from both the New York City and Pleasantville campuses boarded a bus headed to Washington, District of Columbia to learn about civic engagement, leadership, and how their strengths can be applied to different forms of leadership in individual and group settings. 
Accompanied by Center for Student Engagement Staff members Megan Brown (the Assistant Director for Leadership Initiatives), Maria Lemus (Coordinator for Student Engagement), and Gabriella Lester, (Assistant Director for Leadership Programs on the New York City campus); the weekend excursion gave students an opportunity to spend a part of the day on Saturday exploring Washington's monuments and museums while also participating in workshops and discussions about civic engagement, leadership, and strengths. 
The itinerary dictated that in the morning, students attended a presentation related to the Social Change Model of Leadership, which describes leadership as a purposeful, collaborative, and values-driven process instead of a simple title or task.
According to this model of leadership, individuals have the ability to lead from anywhere in the room; they just need to understand their values, strengths, and weaknesses. After the workshop, there was a planned group visit to the National Archives Museum, and afterward, students were able to go out and explore a museum of their choice. 
On Sunday, the final day of the excursion, George Davis, a resident sophomore student studying finance on the New York City campus commented that this trip "exceeded his expectations."
"I think being in DC is a great way to look at other leaders and so many varieties of roles in so many different industries," Davis said, "and I think that learning in presentations like the strengths assessment we did today how you can best put your best foot forward when working in a team or at a job and how you can be a good leader for those around you and model the behaviors you wish to see." 
Ellisa Lecointe, a sophomore student on the Pleasantville campus studying biology, said after receiving the itinerary she was excited about visiting the museums. Lecointe explained that she visited the National Museum of African American History and Culture, which had been meaningful to her because she had previously visited in middle school but didn't remember the exhibits well. She was glad to have been able to learn more from the exhibits as a college student.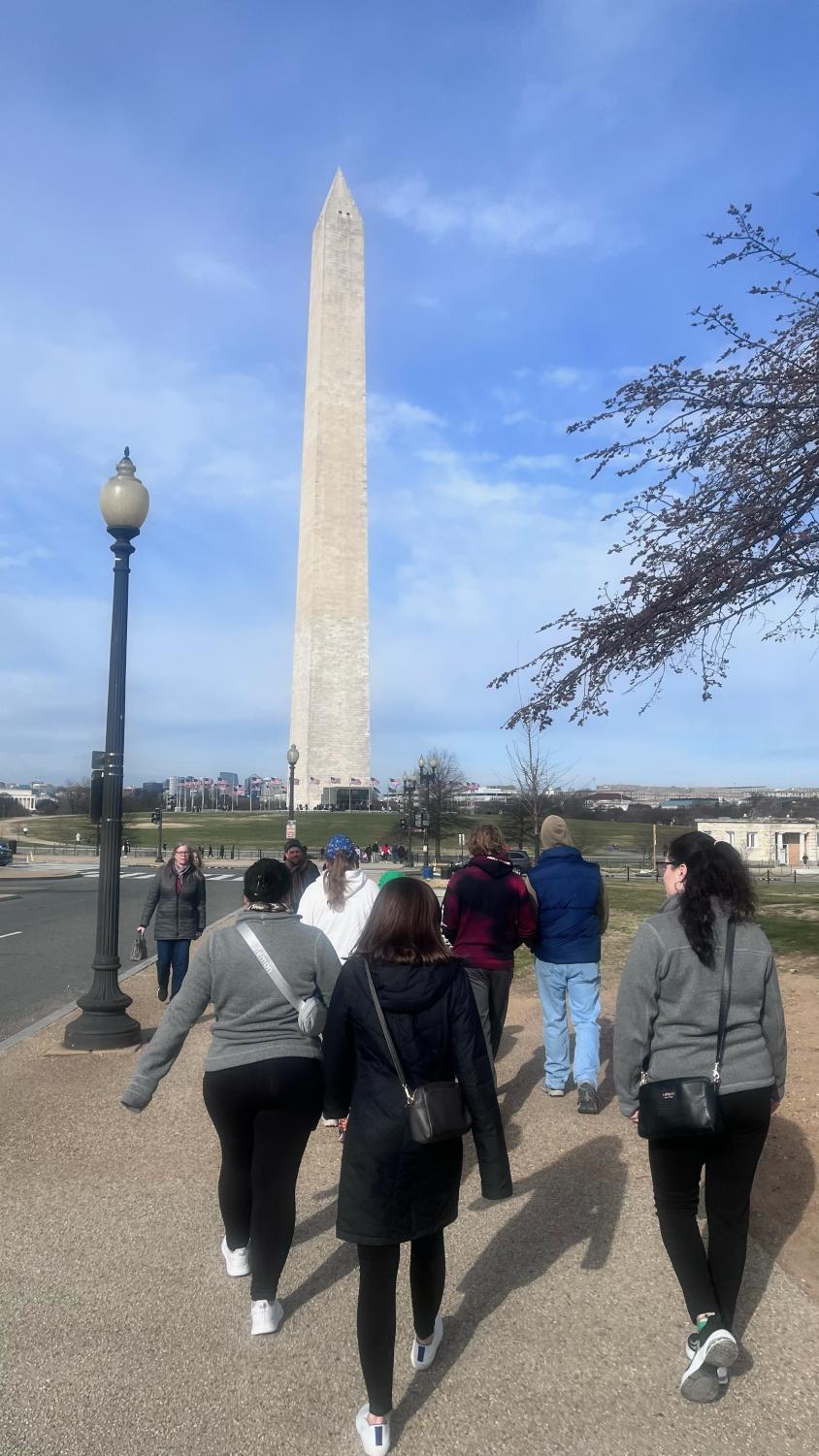 Additionally, when asked about the dynamic of the trip, Lecointe explained, "I most definitely enjoyed meeting new people…we were able to identify different problems that both campuses might be experiencing, like food insecurity, and everybody had great ideas about how we could fix it." Lecointe explained the reasons she had been motivated to apply for the trip, "I wanted to find out how I could become more involved on campus and how I can open myself up more to meet new people, get new ideas, and overall see how we can collaborate on something that would be beneficial to all Pace students."
Robert Girtman, another sophomore student on the Pleasantville campus said, "There was a good structure to it – you were still held responsible, you were still a Pace student on a leadership excursion, but then you were also an adult in that you were able to take care of yourself and go out and explore." Girtman also expressed his interest in future leadership-related trips explaining that "I feel that different cities have a different environment which enables you to think differently." Girtman also said that he would recommend students explore this opportunity in the future because, "there is really something that can be taken away from this trip – it's a great all-around experience that you can definitely benefit from."
Students who are interested in getting involved with clubs and organizations, or who are interested in attending different events on campus can access a current list of organization events and meetings using SetterSync or the Corq app.
Some upcoming leadership-related events on the Pleasantville campus include the 6th Annual Women's Leadership Conference that will be held on Saturday, March 4th, in the Gottesman Room in the Kessel Student Center, A Stuff Your Strengths Event on March 29th, and A Grow Your Strengths Event that will be taking place in April.
If interested in learning more about strengths and student leadership, contact Megan Brown, the Assistant Director for Leadership Initiatives for more information or to schedule individual/group strength coaching meetings.