Pace Student Documentary to Premiere on May 8th
This year's Producing the Documentary class will premiere its film For the Love of Food on Monday, May 8 at 7 PM at the Jacob Burns Film Center. The class is taught by Professor Maria Luskay, who described the film as being centered around "the idea of simple food, simple life, and loving the process, and the whole idea of bringing the family together."
Those interested in attending the premiere of the film can follow this link to book their spot for the pre-show reception and this link for the premiere itself. They can get their tickets free by using the promo code PACE23FREE.
Pace's Spring 2020 documentary team was originally supposed to go to Laon, France, and make a film about local beekeepers. However, this trip was canceled due to the outbreak of the COVID-19 pandemic, and the class had to switch their focus to American beekeepers instead.
While students were reimbursed for the money they had already spent in preparation for the trip, the tour office in France offered Pace credit instead. Rather than give the school its money back, it allowed the documentary program to take its trip at a later date with the money that was already paid. Now that Pace is running study abroad programs again, Luskay decided to take advantage of her credit with the travel office and set this year's documentary in France.
"This area of France is in the Aisne [department], and they are known for and were given an award for their food production," Luskay said. "Because of that, I thought that this area was a great area to look at this whole idea of the love for food… People relate food with feeling good and love, and I always thought that was very interesting."
The documentary discusses the idea of slow food: food that is flavorful, healthy, affordable, and produced in an environmentally friendly manner. It also discusses the concept of farm-to-table: eating seasonal, locally sourced products and ingredients.
The documentary will offer a comparison between food production in France and the United States as well.
"The documentary really focusses on France and how [eating simply] is the natural way of life for them, and in the United States, we are finally coming around to doing the same thing, but for us, it's not easy, and it's not simple," Luskay said. "We have to look for farm to table. We have to find markets that sell natural food because, in the United States, we're all about convenience and size."
The team spent the first half of the semester doing preproduction research and preparing, and then filmed on location in France over spring break. The team has been editing ever since.
Luskay said that this year's team consists of a great group of students who put in a lot of hard work to make the whole process really special. While in France, they spent full days filming, then returned to the hotel to immediately back up and label the footage.
"Now the challenge is that it has to be translated," Luskay says. "A lot of that footage, and the interviews were shot in French. The one student that speaks French, Elizabeth Bardon is like the all-star of this group because she translated everything for us. Her job was really difficult, and she was a rock star. She helped us immensely."
In addition to transcribing and translating interviews, postproduction involved cutting the story together, refining it, making audio adjustments and color-correcting, and even shooting interviews with local chefs and farmers in New York.
When students express interest in signing up for Producing the Documentary, Luskay stresses to them how much work it will be, and that if they are not willing to do the work, they cannot sign up for the class. She tells them that they must "shine bright throughout the whole process" and that they cannot "fade out."
She cited this class as an excellent resume builder, as documentary students from previous years have gotten jobs because employers were intrigued by the work they put into their respective documentaries. This class is an excellent example of experiential, hands-on learning, the sort of thing Pace should be proud of she said.
Brittney Walkingstick, a grad student and member of the documentary team, says that the experience has been incredibly challenging, but also incredibly rewarding.
"Some challenges we faced were getting all of the data transferred onto the hard drives at night as soon as possible to get as much sleep as we possibly could," Walkingstick says. "There were some late nights that were pretty tough, but we pushed through… Out of this experience I've learned to have patience in and trust my fellow creatives. My favorite memory was a day in Paris a small team and I went to a farmers market and tried some amazing fruits and croissants."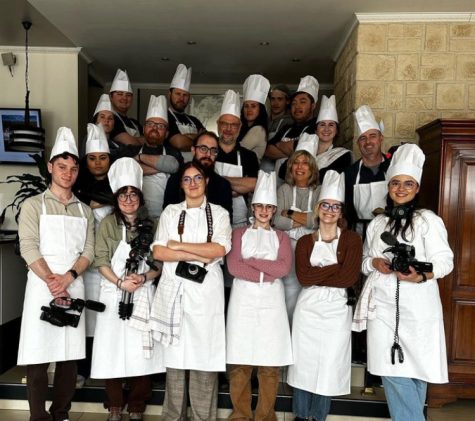 Luskay said that for her, one of the most rewarding parts of the trip was being able to see her students' reactions to being in a new place for the first time.
"It opens up this whole new door for them," Luskay says. "It's like this sparkle I see in their eyes that they are so involved and so happy to be there. Just being in France, and then when we got to Paris, everyone was just so excited. And they had great meetings with the people that we spoke to, and they got along really well, and then when they tasted the food and felt that love that we heard about… That's what I loved."
Both Luskay and Walkingstick hope that this documentary reshapes the way viewers think about the food that they eat and the processes that brought it to their plate.
"I think that it's going to open their eyes to food," Luskay says. "How important ingredients are in the food that they eat. Where did that come from? What am I putting in my mouth? Where did it come from? Shouldn't I know?"
Those interested in learning more about this documentary and its production can read about it on the class's blog, watch the documentary trailer, and follow the team on Instagram @pacedocs.
For The Love Of Food premieres at the Jacob Burns Film Center on Monday, May 8th at 7 PM.