Environmental Museum Donor Concerns Answered; Community Livid in Response to Conversion
While a notable donor to Pace University's Marty McGuire Museum confirmed that her concerns and questions regarding the conversion to a lab were answered during a conversation with school officials, many students, faculty, and staff continue to voice their objection.
Lucy Waletzky, the daughter of Laurance Rockefeller and great-granddaughter of John D. Rockefeller, donated an undisclosed amount of money to the museum. Though she said she had concerns, she never elaborated as to what they were, issuing only a statement via e-mail.
"Most of my initial concerns and questions were answered following a meeting with Dean [of Dyson Nira] Herrmann and Assistant Dean [Richard] Schlesinger," Waletzky said.
Campus reaction to the announcement of the conversion has been largely negative, however. Critics of the move believe that the whole proposal process was neither thought out well nor well-communicated, that environmental students do not need a lab, and that alternative spaces for a lab exist on campus.
"I wish the academic deans, Herrmann and Schlesinger, would have proactively got students, faculty, and staff actively engaged in the process of consideration as a proposal for the conversion of the museum," Chair of the Faculty Council David Rahni said. "I understand their point, but I think, had I been them, I would have from day one brought students, faculty, and staff on the same table for very transparent communication."
Neither Herrmann nor Schlesinger was available for comment.
Student Government Association (SGA) President Mitchell Farrell was also disappointed by the lack of communication from the university and felt Herrmann's official statement was reactionary.
"These rumors came out and were all over Facebook for an entire week, and Dean [of Students] Lisa [Bardill Moscaritolo] was aware for a week and she wasn't even getting clear answers," said Farrell, who issued a Feb. 4 statement supporting the museum's preservation. "Then after SGA announced our statement last Saturday, it wasn't until the following Monday that we had a statement from Dean Herrmann, but that was a whole week of it just being a giant rumor on campus and online. I felt like it was just done as damage control rather than communicating with the campus."
Farrell said that a Feb. 22 meeting between SGA and student leaders will take place at 3 p.m. in the SGA Conference Room. There will be an open forum the following Monday during common hour where Schlesinger is expected to attend.
Students circulated petitions, both online and physical, in an effort to voice their displeasure. Much of the student ire is directed at Herrmann's claim that she received complaints that the enclosures in the museum were not "hospitable" for the animals.
"The animals are housed very nicely, they are always getting love and care," said freshman Samantha Mayrose, who started an online petition on Jan. 31. "Pace students are making sure that they always get attention. I see students coming up to the animals and talking about their day, taking photos and petting them."
The need for an environmental lab came into question as well and Lab 111 of Dyson Hall's basement is a supposed alternative space for a lab, according to sources. Biology Professor Melissa Grigione and Rahni currently use the space and claim it is used "regularly."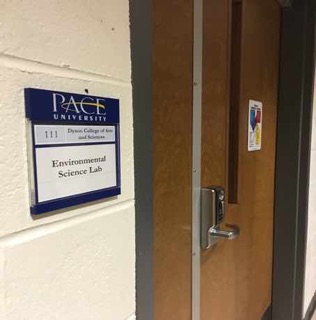 Multiple anonymous sources claimed that environmental field kits provide enough for testing and analyzing data, therefore a lab isn't needed.
"Fifty percent of [environmental work] is spent in the field and 50 percent of the time in a lab," said Grigione, who has performed environmental field work. "You absolutely need a lab. If I'm collecting blood from a wild animal in the field, in order to study that data, I need a lab."
Chris Petrella, the museum's animal keeper, and Mayrose spearheaded a Feb. 10 student gathering to show support for the animals and sign a petition.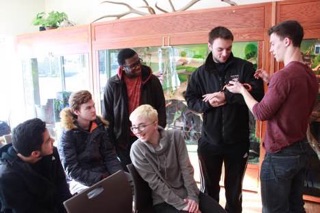 The animals in the museum have been relocated three times, twice to different rooms in the original museum building and when they were moved to the current space, according to Environmental Center Director Angelo Spillo.
Mayrose feels the constant moving is difficult for the animals.
She's confident, however, that the animals will be relocated to a suitable location, but feels like the environmental museum is the best location for them.
The process of relocating the museum animals has not begun. Spillo and Jim Eyring, the Environmental Center's assistant director, would not comment on the museum's closure, referring any inquiries to Angela Nally in the Dyson office. Spillo did say that at least 10 students visit the museum daily between 11AM-3PM.
CORRECTION 2/23: Melissa Grigione's position was originally written as the Director of the Environmental Studies Graduate Program. 
This was incorrect, as Grigione is a Professor within the Biology Department.