Pace combats a financial crisis amid COVID-19
The financial implications on higher education are rapidly evolving and are increasingly worrisome for many private institutions. Pace is no exception to the inevitability of monetary concerns stemming from the global coronavirus pandemic.
According to the Faculty Counsel Chair of the NYC campus, Daniel Strahs, the university already lost about 15 percent of their overall revenue.
"There's a possibility that all the revenue that we've lost in spring 2020 may extend in some way to fall 2020 and spring 2021," Strahs said. "So the university is actually looking at fairly large losses… it's possible those losses will grow."
The lack of revenue created by the university's dormitories directly contributes to Pace's current financial status. According to Strahs, the fees associated with the dormitories were one of Pace's most significant losses associated with the pandemic.
Phase one of budget cuts was implemented by the university to immediately lower its expenditure on April 23. Phase two and three are being continuously monitored, but Pleasantville's Faculty Counsel Chair, David N. Rahni, predicts that the university will be ready to begin phase two in late June or July.
Phase one included a hiring and salary freeze, that will extend at least until the end of the year, no travel and a total cutback on discretionary funding. Although it was not issued in phase one, Strahs believes that the decision to postpone sabbaticals is under review to be enacted.
"This amount of loss is really too much to manage, in a simple way," Strahs said. "…Therefore they're looking for a bunch of cuts in various ways."
One way in which Pace is considering to cut back is in various ways through the faculty. Faculty members were sent a survey asking to prioritize six hypothetical scenarios indicating sacrifices they would be willing to take to aid the university.
"While the faculty via surveys actively engaged in ways and means of savings due to pandemics, the jury is till out and they await to resolve soon by mid summer," Rahni said.
According to Strahs, the university is actively undergoing scenario modeling that should be completed by the end of next week. There are three main options under revision for the upcoming academic school year. Pace will either begin the fall semester on time with social distancing policies put in place, start later with an intermediary semester, or continue remote operations until spring 2021.
Financial remodeling, including proposed salary decreases, are also associated with this plan. The summer tuition fee was reevaluated and decreased by 25 percent, increasing engagement and enrollment. However, it will likely generate less revenue than usual.
"The sooner the university actually enacts budget cuts, the more effect they have in mitigating revenue loss," Strahs said. "The upper administration is proposing salary decreases of 10-15 percent. There is a proposed work load reductions or staff furlough."
A pause in the 403(b) retirement fund for all administration, faculty and staff is also being proposed.
Strahs suggests that one of the best things for the university's finances may be to start classes in August and end them in November to try to synchronize university operations with the flow of the pandemic.
"At that point, the second wave of the pandemic would hit, so we move into remote operations," Strah's said. "And then, at some point, the second wave passes and then we move back into in person operations."
About the Writer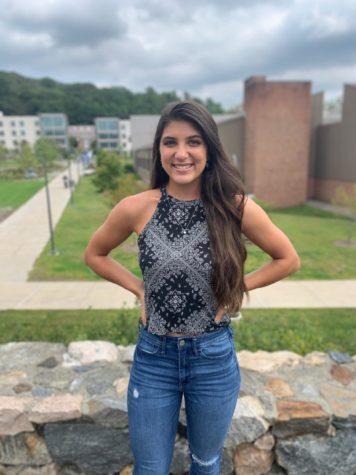 Christina Bubba, Editor-in-Chief
I am a senior Digital Journalism major with a minor in Public Relations. On campus, I am Editor-in-Chief of the Pace Chronicle, captain of the Cheerleading...