Pace promotes flexibility in spring preparation
A semester and a half of Zoom may be behind us, but another semester of the hybrid format is to come. The COVID-19 pandemic has adjusted the college experience to social distancing, zoom courses, face masks on, and a decrease of dormitory students. Many students chose to complete all coursework at-home this past semester or commute rather than fulfilling the dorms. However, some students decided to live on-campus for academic and personal reasons.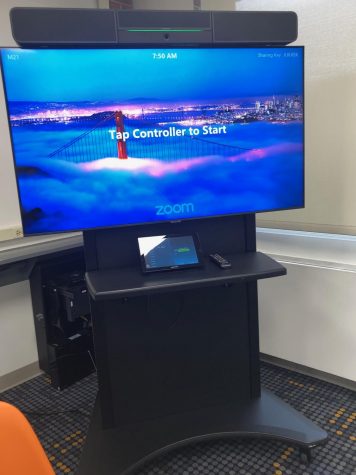 At this time, It looks as if the spring semester will be no different. However, as Interim Dean for Students Rachel Carpenter described it, it can change at any moment, and flexibility in higher educational institutions has become key.
"Acknowledging things are gonna change, help us to be more reactive. When the New York governor decides to add states to the list or as cases increase we are prepared for drastic decisions to happen." Carpenter continued, "We are prepared to handle changes better because we know they are going to happen. We have become more flexible and we need to and we are going to be tested on that in January."
What can be expected of the Spring?
The spring semester is scheduled to take place from Jan. 23 to May 1. This schedule is the shortest possible in terms of weeks and converts all holidays to asynchronous remote learning. This eradicates the yearly March spring break. In case of a COVID-19 spike, the university academic calendar committee proposed a Feb. 10 start date over the summer that can be utilized if needed.
The spring semester will continue to be a hybrid format with students having the option to choose from online, in-person and hybrid courses. Most students have the ability to take their entire semester fully remotely again. Students registered for courses during the week of Nov. 2 and have until the end of the add/drop period to make changes without penalty.
Like the fall semester, all instructors will be prepared to switch their courses to complete remote learning if needed.
Pace will be complying with all New York State Guidelines. Initially, students from red states were required to quarantine for 14 days. However, as of Oct. 21, Governor Andrew Cuomo released new guidelines stating that travelers from non-bordering states arriving in New York will not be required to quarantine if they meet three criteria.
Arrive in New York with proof of a negative COVID-19 test taken no more than three days before arrival in the state.
Quarantine for three days upon arrival in New York.
On the fourth day in New York, get re-tested for COVID-19. If the test is negative, the traveler can cease quarantine. If it is positive, they must isolate for a period of time according to the Department of Health instructions.
Carpenter explained that students would again have the option to quarantine at a family/friends home, in a hotel or an Airbnb. If they were to quarantine through the university, there has not been an official decision on how that would be completed.
Carpenter stated that they are exploring the hotel option or a potential pre-semester campus quarantine instead.  For the fall, students had the option to complete quarantine in a local hotel. Pace's residence life accompanied students in the building.
Students, staff, and faculty will need to provide a negative PCR COVID-19 test prior to stepping onto campus, according to a recent email communication from the Dean of Students. At this time, spring semester move-in is scheduled to begin on Tuesday, Jan. 19. The university will require students to sign-up for a moving-in time to allow for social distancing.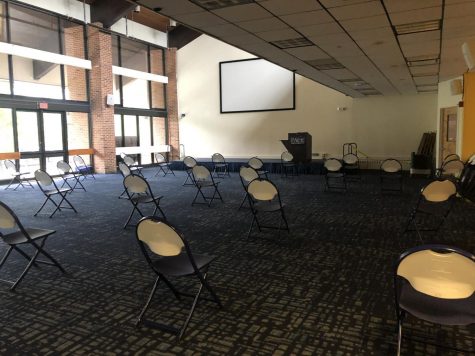 Events are a focal point of the college experience. An increased amount of events have been completed on zoom, however, the on-campus events have been successful. Carpenter emphasized social distancing and mask-wearing was completed by all.
For the spring, the issue of weather arises to be more prominent. SDCA is working with the academic classroom spaces to be able to provide spaces for socially distanced indoor events.
For the most part, policies are planned to remain the same with the dining hall, physical distancing, and face coverings. However, campus life may increase activity if the NE10 does bring sports back for the spring. In addition to the regular programmed spring sports, the fall sports would also be playing.
During the fall, athletics had limited practices, but no competition efforts. Pace is still waiting on the NE10 to make official decisions for the spring. If athletics were pushed back into competition, the number of competitions would be reduced and fans would not be permitted.
Residential Life and Housing
Residential Life and Housing has been a key area of concern for the university since the pandemic started. A loss of dorm revenue has hindered the financial status of the university. With an increase in remote/hybrid courses, health concerns, and current residential life policies, many students choose to commute or complete their semester fully remote. Some students may be switching their residential living situation for the spring.
Students have until Dec. 1 to cancel spring housing or they lose their housing deposit. Students who want to return to on-campus living have to contact Nilam Kotadia, associate director of residential life.
The university will be continuing to maintain capacity and density reductions through limiting the number of triples and maintaining lower density in the dorms, like Martin and North for Pleasantville, that have communal style bathrooms. On the NYC campus, there will be no quads offered. Despite these guidelines, the Dean for students said they are not concerned about too many students wanting to return to campus life. They believe they will have plenty of room to accommodate everyone.
"I think we will have a change, but I don't think it will be very large," stated Carpenter.
Some common themes of a housing transition would be
Students who deferred in the fall.
COVID-19 concerns
Students do not want to live on campus
Financial implications
After seeing students live on-campus this semester, some may decide to join next semester
Junior Tiffany Decker, is one of those individuals who is planning on altering her housing situation next semester. However, she is avoiding the full move back onto campus.
Decker is planning on coming to New York from Florida to reside with her aunt. She states this is to allow her closer proximity to campus to access resources, incorporate a change of scenery, and get back into working.
"I'm avoiding dorming because I do have health issues and wouldn't feel comfortable living with others just now. Another issue with dorming is with roommates or suitemates you don't know where they go outside of the room and if they are exposed," explained Decker.
Sophomore Alumni Hall Resident, Ashley Schlemmer says she will continue living in the dormitories during the spring. One reason Schlemmer decided to dorm this semester was due to her responsibilities on-campus. The psychology major has in-person obligations with her organizations and job as a tour guide in the Welcome Center.
Schlemmer also asked her hyflex professors if she could come into class whenever possible to get the in-person experience. The campus resident also chose to live on-campus for the social aspect. She added, "I don't think I could have stayed home alone most of the time while my parents were at work."
Despite the stricter regulations and guidelines, like no visiting another student's dorm room and limited common area spaces, Schlemmer still found herself keeping busy with her time on-campus.
A day in Ashley Schlemmer's life on-campus through photos: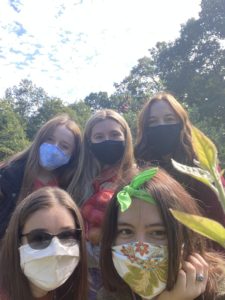 Places for Improvement 
One area that has consistently evolved over the course of the semester is the testing procedure. Within the first week of classes, all residential students were required to get tested. Carpenter believes this was an important part of maintaining the health on-campus and avoiding an initial outbreak. Since then the university has adopted random selecting. They have also utilized a variety of testing options.
Carpenter explained this is one way the school is looking to improve upon for the spring. Pace will be looking at whether the community sampling works and whether the population sample taken is sufficient enough. Moreover, Pace will continue to look into the types of tests that are offered and find an accurate fit for the university.
Schlemmer said there are places for Pace to grow.
"I think procedures are going well with random selection. I think it should be a little bit more concrete.. just so more people are getting tested or have an ability to request a test. I know people are leaving campus often, but aren't getting selected often and there's people getting chosen every week who aren't leaving rooms." explained Schlemmer.
Schlemmer also added that she believes the more often you leave campus, there is greater chance of testing. She states the university could do a better job of tracking students, but has already improved with a new rule of scanning a QR code every time you enter a common campus space.
Carpenter expressed that the campus body needs to get better at utilizing the Pace Safe App to help identify if one is experiencing symptoms of COVID-19 or may have come into contact with someone that contracted the virus.
"It's meant for you to fill out any day you are on-campus… not just when you leave and come back to campus," Carpenter added, "It helps you remember about monitoring health. It's required by NYS to have a system to periodically fill it out."
She expressed the university needs to increase holding members of the community accountable for filling out the questionnaire.
Students like sophomore Ashley Schlemmer have expressed discrepancies within the questionnaire because many symptoms of COVID-19 that are listed on the questionnaire like a headache are common amongst students.
Reflection on Fall
The Fall 2020 semester offered a learning experience for students, staff, and faculty involved. As social distancing, mask-wearing, and directional signage was implemented to change the campus layouts for safety. The dining hall offered pick-up options through GrubHub and eliminated self-serve foods.
Students and faculty navigated the challenges of hybrid learning through online, hyflex, in-person and web-assisted courses. Events and meetings took place on Zoom or within smaller capacities to abide by the COVID-19 rules.
In late-September, a large uptake of cases resulted in a two-week quarantine of the entire Alumni Hall building on-campus. The quarantine lasted from Sept. 24 to Oct. 8. Despite the challenging situation, Carpenter was proud of the communication and team effort to make it through that difficult time with over 320 impacted students. She called it "a proud moment during an unfortunate situation," to see the community come together.
In addition, Carpenter stated that the partnership between University Health Care and Residential Life was an important aspect of maintaining health and safety on-campus.
"Anytime University Health Care received notice of any symptoms or a positive test on-campus they were really great with residential life and housing to determine quarantine and isolation," explained Carpenter.
Although, Pace did make a transition to remote learning earlier than planned on November 19. The decision came as the local hospitalization and COVID-19 cases were rising in nearby areas. Moreover, New York City schools were shut down with over a 3% positivity rate occurring.
As of November 21, the Pleasantville campus had the largest number of positive cases compared to the other two locations of White Plains and New York City.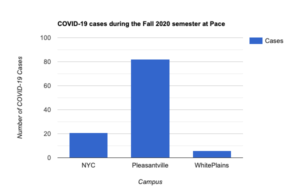 Pace has had relatively low numbers compared to colleges around the country and was ranked No. 4 in College Magazine for universities deserving recognition for their response to the pandemic.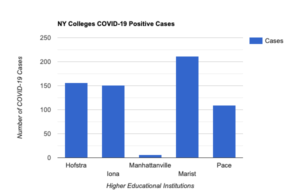 New York State also took it upon themselves to give report cards to each higher institution for their reporting system and administered Pace a B+.