Edward Mortola's Centennial Celebrated
The Pace University community congregated and celebrated Dr. Edward Mortola's (1917-2002) centennial by reminiscing and honoring his life and service to the institution in Mortola Library on Fri., Apr. 14.
A series of speakers who were either close to or knew Mortola—the third president of Pace and the library's namesake—or knew his story through research and association were called upon to reminisce about who he was, his life, and what he meant to Pace's history.
President Stephen Friedman was among the approximate 30-plus people in attendance and was called upon to speak about Mortola. Doris Mortola, Edward Mortola's wife, and their daughters Doreen Mortola LeMoult and Elaine Mortola-Clark were also in attendance.
"[Mortola] really built the modern Pace University and he created the special blend of liberal and professional education that makes us so distinctive," said Friedman, who plans to retire at the end of the semester. "The commitment to creating opportunity and better lives for students, that's what Pace is all about and that's what's so impressive about what he built. I never knew Ed Mortola, but I've lived with his legacy for the last thirteen years, so it was a very important event for me."
Pace Historian Marilyn Weigold spoke next and gave a historical account on his life. Pace Archivist Ellen Sowchek followed suit and presented a 20-minute video tribute to Mortola displaying who he was and what he did. The video included soundbites of Mortola from a series of interviews he did towards the end of his tenure at Pace.
"He was a highly intelligent, very dynamic man who was totally involved with this institution seven days a week," said Weigold, who knew Mortola. "He was a people person and I think that really was a key factor in his ability to transform this university into the great institution that it became during his tenure."
Mortola started his Pace career as an assistant dean in 1947, served as president from 1960 to 1986, and he established the schools of business administration, arts and sciences, education—nursing and law—, and computer science and information systems under his term. He was also responsible for moving the City campus to 1 Pace Plaza, acquiring university status, and expanding to the Pleasantville, White Plains, and Briarcliff campuses.
The Edward and Doris Mortola Library was named after them in 1983 for their commitment to the university. He died at his Rye, NY home on Oct. 21, 2002.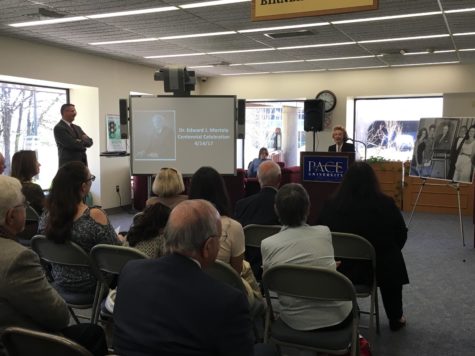 Library Director Steven Feyl and Sowchek organized the event initially in February to align the event with his actual birthday, but the scheduled day was canceled due to a snow storm.
"Besides the Paces, [Mortola's] most likely the most important person in terms of the university history and its development," Feyl said. "I'm in charge of the building in which he's named after and to sort of have that connection with the family, what he did, and what his family did is important to me."
Doris Mortola was called upon lastly and thanked the people in attendance for coming and sharing their memories. Feyl gave her a bouquet of flowers as a gift as a token of appreciation for her and her late husband's service to Pace.