A Setters' Guide to Dining Off Campus
When you are a resident student in college, there is nothing you miss more than a nice home-cooked meal. While the cuisine at Kessel will combat your hunger between classes, it will never compare. 
Regardless, if you will be spending the majority of the year living on campus, you have to make do with what is available. Luckily, there is an abundance of local restaurants and cafes nearby Pace's Pleasantville campus that will satisfy your tastebuds almost as much as grandma's famous apple pie. 
Based on responses from The Pace Chronicle Instagram and direct student outreach, here are some of Pace University students' favorite places to eat off campus: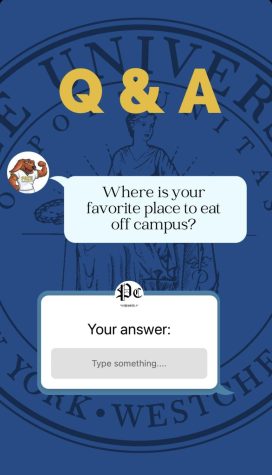 Lost track of time studying and forgot to eat dinner? No worries. Open 24 hours a day, Rocky's is a go-to for late-night dining. While they don't deliver themselves, Pace Delivers has you covered. The student-run business will take your order before midnight and have a sandwich delivered right to your residence hall. From their famous chicken cutlet known as the "Mikey D", to the "Hashtag", a bacon egg and cheese with a hash brown and chicken cutlet; Rocky's will satisfy any meal of the day. Get yours
 on a delicious roll or wedge. Inside the store, the shelves are stocked with a variety of different candies that you may have never seen before. Going to Rocky's is always an adventure, especially for Pace Universities' night owl population. 
"Live Love Eat Tacos!" That's the motto of The Taco Project in downtown Pleasantville, connected directly to Playa Bowls. The vibes at both establishments are perfect for hanging out with friends, whether you just met or are reconnecting after summer vacation. Other than a delicious variety of margaritas and cocktails on The Taco Project menu, Pace students say they enjoy: the BBQ Pulled Pork soft shell tacos, steak burrito bowl, and chicken of course in all forms like hardshell tacos, a burrito, or cheesy quesadilla.
If tacos won't make you hop on the shuttle bus straight for Memorial Plaza, how about a smoothie? Playa Bowls has you covered with their beautiful bowls, smoothies, and juices that are certainly Instagram-worthy. The eccentric vibes inside give a west coast feel. Try out the Electric Mermaid bowl as recommended by Pace Tour Guides Caitlin and Sasha! Other Pace favorites include the Pink Flamingo, Nutelloco, and Nica bowls. 
While there are many different pizzerias around the village of Pleasantville, if you ask a fellow Setter they will say Italia's never fails. Their menu features a wide variety of Italian entrees and pasta specialty dishes and of course, fresh brick oven pizza. Whether you are craving an Italian pizza like the Margherita, or an American favorite like barbecue or buffalo chicken pizza, Italia Brick Oven Pizza has you covered. They also serve heros, wraps, and many of your favorite appetizers. It is conveniently located in the Thornwood Plaza right by CVS and Shoprite, which is accessible by the Pace Shuttle Bus. 
If you love Thai food, you will love D-Thai Kitchen on Commerce Street in Thornwood. The meals are made with fresh ingredients and careful preparation that are sure to fulfill your cravings. D-Thai serves an assortment of homestyle curries and noodles on their menu leaving plenty of options for students who are vegan, vegetarian, and even gluten-free. If you want to try something new, this is the place. Try the duck with tamarind sauce and sautéed bok choy or the grilled squid salad with onion, fresh Thai herbs, mint, and chili paste. 
Hungry in New York City?
One of the greatest things about Pace University in Pleasantville is the easy access to New York City. Nothing beats taking the Metro-North down to Grand Central Station and exploring Manhattan. With more restaurants than any other US city, you have endless options which can sometimes be overwhelming. If you are not local to New York City, you may have trouble choosing the best option for you. There is nothing worse than tiredly walking around the city searching your phone frantically for a place to eat before you catch your train. OKI Poke & Ramen is just right around the corner from Grand Central Terminal and it is the best place to fill up and recharge. A warm bowl of Ramen is unbeatable comfort food and the endless combinations make it hard to get sick of. Wake up with their Volcano Ramen or customize your own and add extra toppings like a soft-boiled egg, fish cake, or Chashu Pork. OKI Poke & Ramen provides a quick and easy meal when you visit New York City. 
Fast Food 
Sometimes, it just can not wait. If you are looking for the closest option, head to downtown Pleasantville to grab a quick lunch at Subway. If you are from New England, you will be happy to hear there are not one, but two Dunkins by Pace! Wendy's is an option located in Hawthorne, and of course, there is always old reliable McDonald's, also located in Hawthorne, which is another midnight Pace Delivers option. Always open, it is another all-nighter favorite as well as 7/Eleven, and both are favored the most by students at Pace. Especially a "Post Paulies Edition." 
Vegan Options
Root 2 Rise
Falafel Taco 
Little Mumbai Market 
Accepts Flex Dollars (via Auxiliary Services)
Sal's Pizza and Pasta 
Applebee's
Lucio's Pizza
The Taco Project
Frank & Joe's Deli
Italia Brick Oven Pizza
Lefteris Gyro IV
Prime Pizza Co.