New Age Athletics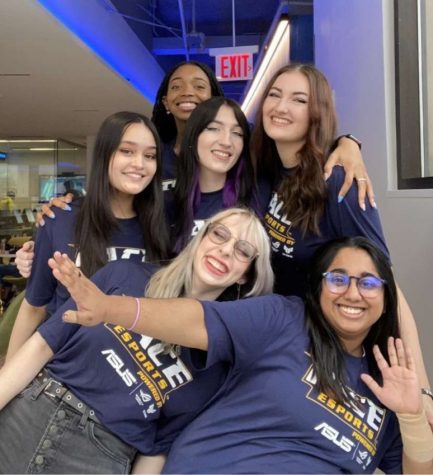 Technology has left no stone unturned in this day and age. The Esport program is the latest and greatest addition to Pace University's athletic division.
But what exactly are Esports?
Esports are primarily thought of as organized multiplayer video game competitions. Esports is kind of an umbrella term, and two types of play sit underneath it. The first one is competitive play. During competitive play, athletes compete in teams or individually in matches against other colleges.
However, there is also an option for casual play. This type of gaming focuses on giving members a chance to just practice and get to know other Pace students who might enjoy the same games as them.
The Blue Team is a lower level team that allows for students to ease their way into competitive game play. However, the Esports are looking to add more teams to for people of all levels of gaming. A Gold Team, more Blue Teams and an open season are now in the talks.
What started off as a small, under-recognized program, has grown significantly due to its dedicated members who wanted to see this new age of athletics brought to Pace. One of those dedicated members is Rory Russell. Russell says that he always saw the potential this little program could be.
Esports is one of the most rapidly growing industries in the global market. According to Russell, "Esports is the number one viewed sport for 18 to 25 year olds globally. Pace University faculty and staff knew that they needed to develop an Esport team."
This program has really taken off on both the Pleasantville and New York City campus. Aiden Martinez, Vice President of the program, says that both campuses boast nine teams and a combined total of three hundred members between them.
Avery describes being in this program "like having a party every night while we are practicing."
This program is ever evolving, too. Recently, the Collegiate Team League of Leagues added four more titles. Those games are League of Legends, Valorant, Smash Ultimate and Rocket League. The program directors are hopeful to add even more titles in the fall.
All of the Esport athletes were incredibly welcoming and willing to talk about their beloved program. Julia Cardillo, a graduating senior, reflects on her time in the program.
Cardillo started off unsure about the program because of all of her other responsibilities. But as soon as she had some free time, she immediately joined. She says that it was definitely one of the best things she did. Cardillo gushed that the "Friendship and community aspect of it has been the best part her experience."
While it is video game oriented, it's so much more than that to its athletes. Inclusivity and empowerment are top priorities in this program. Avery, captain of the Blue Team, says that everyone was so helpful while she learned about the world of esports. She emphasizes that it was a great opportunity to connect with people across both campuses.
"I would have never met any of these people if I didn't join. We have such a nice and welcoming community." Avery says.
Martinez expresses similar sentiments. Since it is an online program, it gives students the rare opportunity to meet students they wouldn't have crossed paths with otherwise. It is really a great connector between the two campuses.
If anyone is interested in Esports, they are encouraged to just show up. Even if gaming isn't necessarily your thing, there are many behind-the-scenes ways to get involved. It takes a village to run this program, and there are always new ways to get involved. Russell says that some core values to the program is focusing "On inclusivity and building people up within the club. It's much more than just video games. We want people to apply their skills to what they feel are best at. We aren't really looking to just fill roles, but to do what is best for our members."
Vice President Martinez reiterates those sentiments. He describes it as a "very welcoming community", and potential members should not hesitate to reach out.
This online athletics team can be reached on a number of different platforms. Streams of their matches or tournaments can be found on their Twitch, twitch.tv/paceplvesports. They also have a Discord server; Paceplvesportsandgaming, and an Instagram; paceplv_esports.