Neanderthal Seeks Human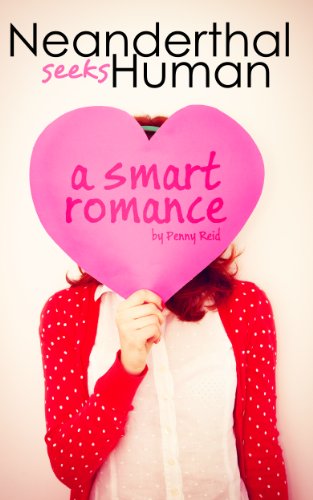 Hello Friends,
This week I bring you a pretty relatable, pretty realistic, pretty witty book – did you see what I did there? Well, relatable for those who would consider themselves awkward (me), smart (me), and have an interest in weird and sometimes useless facts (me times a million). This week's book is "Neanderthal Seeks Human" by Penny Reid and it's the first book in the Knitting in the City series.
I found this book a few months ago during a snowstorm and laughed the entire time. How many of us can honestly say that we've come across someone we find attractive in the face and knew all the right things to say? Definitely not I, Lord knows that my brain doesn't function properly and my weird comes out in full force at all the wrong times. Strange facts and questions are my domain, part of the struggle of National Geographic being your favorite magazine *le sigh* (ELLE and Nylon are tied for my second favorite, just in case you were wondering).
Part of the reason why I connected with this book was the fact that the main character, Janie Morris, was exactly like that. She's crazy smart, knows something about practically everything, has a killer shoe collection, and is so hilariously awkward it hurts. But whenever she over thinks something or calls an emergency meeting with her knitting group, where she doesn't actually knit, you can't help but say, "Same, girl… Same." Except, I do knit because why not – never actually made anything, but I've started many a scarf and sock.
In the book, Janie is dealing with an ex-boyfriend who can't seem to let go, a crazy criminal younger sister named Jem, a new man named Quinn, and her best friends/ knitters. In the beginning, Janie loses her boyfriend, her apartment, and her job all in the same day, where she meets the mysterious "security guard" who helps her pack her things and orders a limo for her ride home. She and her best friend, Elizabeth, give the "security guard" the name Sir McHotpants, whose actual name is Quinn Sullivan, and happens to secretly own a multi-million dollar security business and gets her a job in his office. Oh, and they also start dating. There's a whole lot of other drama, like a roofied drink, a living room brawl, and a sister revelation worthy of a jab to the throat.
This 394-page book is a fun read and you'll come out of it a little bit smarter. Who doesn't love having some interesting facts stored in the mind files for a rainy day? Also, who doesn't love a nerdy cute quote like, "My brain finds you more interesting than all the really interesting trivial facts I could be contemplating or researching at present." SAME, GIRL. SAME..
I've once again created a playlist for your listening pleasure…