Kindred Spirits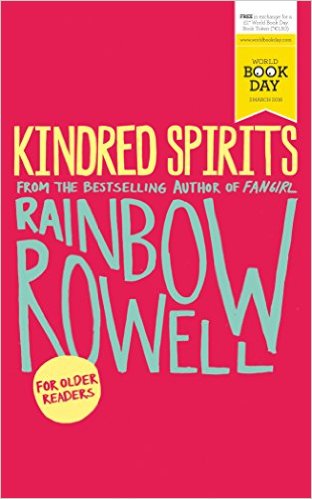 Hello Friends,
This week's blog is dedicated to a 90 paged short story written for World Book Day earlier this year called, "Kindred Spirits" by Rainbow Rowell, who is an amazing author, I would recommend that you read everything by her – she's a kween.
The short story follows a girl named Elena, who is a Star Wars superfan and the only fan of the franchise in her friend group, making her the "nerd" of the group. I guess you could call her a Star Wars purist because she has only seen the original trilogy and hasn't seen any of the extra sequels. Which is probably a good thing because the stories get a little weird and Jar Jar Binks was an absolutely, UNFORGIVABLE character that should never have existed, but I digress.
This story revolves around the new Star Wars movie and her decision to camp outside her local theatre to ensure that she gets tickets to the movie's midnight premier. But Elena is considerably underwhelmed when she arrives to find only two other people, an older guy named Troy and a guy Elena's age named Gabe, who she actually goes to school with and some of her friends make fun of him. This causes a bit of drama because Gabe considered Elena to be one of the popular girls who just kind of acts nerdy, but in reality that's just Elena. Once the drama is cleared up, they become pretty friendly. In the end, after waiting for days to see the movie they end up falling asleep on each other during the movie and end up making a date to see the movie together the next day, which I think means that they're dating and will probably marry each other.
The whole point of "Kindred Spirits" is that being a fan of something isn't exclusive to a specific group of people. Franchises, specifically movies, books, or music, can bring all kinds of people together, and that it doesn't matter what a person's perceived social status is when you both love the same thing. What matters is the bond made between those people over something they could relate to on any level.