Flipped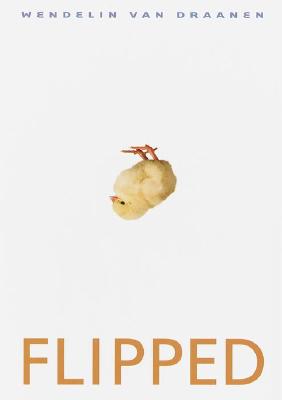 Hello Friends,
This week I ask you to think back on your first crush, or first love, whichever one you remember best. I ask that you reflect upon the precious innocence that is, puppy love. Our book this week is "Flipped" by Wendelin Van Draanen.
This book is A-D-O-R-A-B-L-E! It's the story of two kids who learn the true meaning of loving someone through a series of mishaps and other events. The thing I love most about this story is that it isn't your typical boy meets girl story and I can't wait until you see why (I won't spoilt it for you)… I'll just say the farm thing is a HUGE part of it.
The main characters are neighbors, Juli Baker and Bryce Lorsky, and the first time he sees her, he runs. Juli's blind adoration for Bryce has no real reasoning until late in the story, and it's a bit confusing because you think it's infatuation, until she realizes Bryce isn't as perfect as she thought he was. Which is about the same time that Bryce gets over his initial annoyance with Juli and realizes she's actually pretty great.
The book is written in two voices and it's only 212 pages, so it's short and sweet.
Stay tuned for the ending because I literally let out the girliest sigh ever known to man.
By the way, this cute little book had been turned into a cute little movie and Bryce is played by Australian cutie patootie, Callan McAuliffe, and Juli is played by Madeline Carroll. You can watch the trailer here.
This book is for:  Those girls who have fallen for a boy with dazzling blue eyes. Boys who have ever ignored a girl because she wasn't what most people considered normal because she sniffed you when she thought you weren't paying attention. People who like to look at the bigger picture. People who like to wedge themselves into people's lives. People who feel an emotional attachment to nature. People who are breathing…
Need I go on? In case I do please enjoy this quote from the book:
"Some of us get dipped in flat, some in satin, some in gloss…." He turned to me. "But every once in a while, you find someone who's iridescent, and when you do, nothing will ever compare."