From Ashes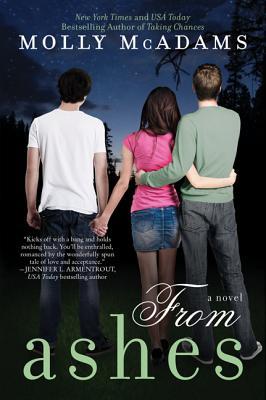 Hello Friends,
This week, we talk about a book that I obsessed over for a good year. It got to a point where I named my fake husband for my marriage project after the main male character. Crazy? Definitely, but I have no shame. Judge me if you want – I own my psycho.
The book this week is "From Ashes" by Molly McAdams. If you remember the "Taking Chances" blog then expect another book that'll tap dance on your heartstrings and then some. Molly spares no emotion, she goes in for the kill and murders you in cold blood. The worst part is that you can't even be mad because the story is so beautiful.
In From Ashes, the story follows Cassidy Jameson, a girl who was raised by her alcoholic and abusive single mother after her father passes away. When her best friend, Tyler, goes off to college in Texas, he packs her up and moves her with him. Tyler and Cassidy share an intensely strange bond that many people don't understand and mistaken for more than friendship. When they arrive in Austin, TX, they meet their new roommate and Tyler's cousin, Gage Carson. From the first meeting, you can tell that there is an instant connection between Cassidy and Gage. They both think that the other is the bee's knees. To Gage, Cassidy is this quiet, kind, girl who knows how to cook a great meal and carries a great deal of pain. To Cassidy, Gage is this good-looking, half city half country, gentleman with a drool worthy country drawl.  
At first, neither one of them understands the strength of the bond between the two of them, but after a bit of manipulation, some distrust, some time and a lot of trust. They finally give love a chance, but even then because of her background Cassidy still has to fight a few demons before she can find her way to happiness. When tragedy hits back home in California, and her home life goes up in flames, Cassidy finds closure and the willingness to live her life without limitations.
The book is 416 pages, but it's honestly such a page turner you don't even notice how many pages there are in the book until it's over. Note: have tissues handy while you read this book, don't say I didn't warn you.
As usual I have created a playlist to accompany the book.