It Ends With Us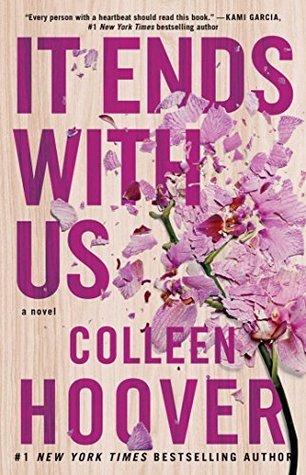 Hello Friends,
This week's book is another heart crushing new adult romance by Colleen Hoover called "It Ends With Us". From the title, I expected nothing less than emotional masterpiece from the genius herself, but this was way more than I expected and different from other books Hoover has written.
I will say that I wouldn't recommend this book for those people who are survivors of domestic violence or abuse in general, as there are quite a few scenes that involve it.
For other readers, you don't have to have witnessed or experienced abuse in order to feel for the characters.
The book starts off with the main character, Lily Bloom, on a rooftop after her father's funeral where she botched her father's eulogy. She then meets a neurologist, Ryle Kincaid, on that rooftop and they reveal a bunch of naked truths about themselves and what they want out of life. They share an obvious attraction but they do not act upon it because Ryle gets called in for a surgery, but before he leaves, he snaps a picture of her thinking they'll never see each other again. Six months later, Lily finds herself reading through her old diaries which are made up of letters she wrote to her idol, Ellen DeGeneres, about an old boyfriend, Atlas Corrigan. Lily decides to follow her dreams and open up a flower shop and hires her first employee, Alyssa, who happens to be Ryle's sister. A romance buds between them and a few incidents that remind Lily of her father's abusive behavior toward her mother. While all this is happening, her first love, Atlas, who comes into the story as a big time Boston chef at a local restaurant and she runs to him for safety.
I feel like I can say no more without spoiling it, but trust me when I say the book ends perfectly.
This book is a pretty quick read, except for if you're like me and need to take emotional breaks for your own sanity. I mean I still read it in a day, but it would've been quicker if I was a cold blooded monster.
Consider reading this book after eating your fill of mac and cheese this Thursday! Happy Thanksgiving!