ABC Finally Casts the First Black Bachelorette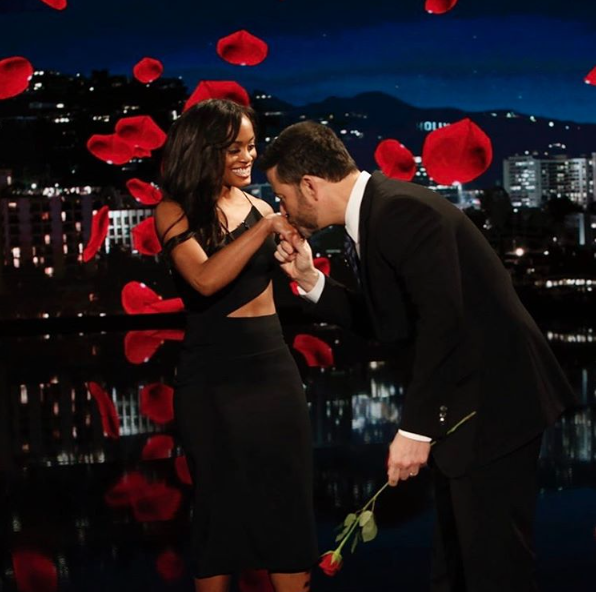 If you happen to be a fan of one of ABC's popular Bachelor/ Bachelorette franchise, you may have already heard what Mike Fleiss, the show's creator, called in a tweet "the history making historic announcement could be the most historic in the history of the Bachelor [franchise]." That announcement, made February 13 on Jimmy Kimmel Live, is that the next Bachelorette will be the first person of color in franchise history.
Yes, you read that right; this upcoming season's Bachelorette will be Rachel Lindsay, who was a fan favorite from this season of The Bachelor with Nick Viall. She won over viewers hearts with her style, personality, willingness to dance whenever the mood hits her and when she won the first impression rose – the first black person to do so.
Lindsay is a 31-year-old lawyer from Dallas, Texas. She graduated from the University of Texas with a degree in Kinesiology and Sports Management and continued to Marquette University for law school. She now practices in Dallas, where her expertise is listed as insurance law on her firm's bio page.
One of the confusing things about this announcement is that it's coming while Lindsay is still a contestant on the show as part of the final four. In the past, Bachelors and Bachelorettes have been revealed after the season's ending – either on finale night or within the weeks following the finale. According to Bachelor and Bachelorette host, Chris Harrison, who explained the details on Live with Kelly, the announcement came earlier for Lindsay's benefit.
"We named her the Bachelorette early because weird TV calendar stuff is that The Bachelor runs right up to when we start taping The Bachelorette. Like, we're talking days. We're done. And she goes further in the show, and we're like, 'Well we need to let everybody know that Rachel's our Bachelorette. We would like to cast the show for her," Harrison said.
While Bachelor Nation doesn't appreciate the spoilers, they are excited to have a change in the cookie cutter, monochromatic cast. Following the announcement, Lindsay has received positive feedback from former contestants of the show, as well as, viewers.
This isn't all that surprising since it only took them 33 seasons to try and "make history". Former Bachelor producer, Sarah Gertrude Shapiro, thinks that it will take more than one casting decision for the franchise to really claim to have made history.
The Texas native said of the opportunity in an interview with People magazine, "I'm obviously nervous and excited to take on this opportunity but I don't feel added pressure being the first black Bachelorette, because to me I'm just a black woman trying to find love. Yes, I'm doing on this huge stage, but again my journey of love isn't any different just because my skin color is."
Though she is the first black Bachelorette, Lindsay is not the first minority because Juan Pablo Galavis was the first Latino Bachelor in 2013, but that season was kind of a disaster. One must wonder if the caliber of men will be different since Rachel is successful on her own and way too good for the show while many former bachelorettes were aspiring actresses and models.