Movie Review: Before I Fall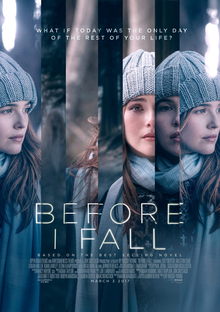 If you were given endless opportunities to right a horrible wrong, what would you learn and how many times would it take you to get it right?
That's the main idea behind the movie adaptation of the popular 2010 Young Adult (YA) novel, "Before I Fall" by Lauren Oliver that came out this weekend.
Based in the same steel-blue paradise as the first Twilight movie and Fifty Shades of Grey, the Pacific Northwest, the story focuses on 17-year-old high school senior, Sam Kingsley, who finds herself in a time loop reliving the last day of her life as she learns larger lessons from the actions of herself and her friends.
Samantha, played by Zoey Deutch, is part of the stereotypical mean girl clique. While she isn't the worst of the group, she's definitely no angel: being mean to her little sister, rude to her mother, who can't cross a line drawn in nail polish outside her door, dismissive of her childhood friend and secret admirer, Kent, and cruel to Juliet, a social outcast that is the main target of the girls' constant ridicule.
The day starts out on Feb. 12, which is a big day for Thomas Jefferson School and for Sam. The day where affections are declared and roses are sent out, resulting in a popularity contest among students where Sam and her friends come out on top.
That night, plans include: hitting up Kent's house party, followed by Sam and her boyfriend, Rob, having a big night with Rob's flannel sheets. While at the party, the clique's leader, Lindsay, gets confronted by Juliet who calls them bitches, drunks, and pathetic.
In return, Juliet gets drinks thrown at her, pushed around a crowd of people, and get a number of rude things yelled at her but the crowd favorites were "psycho" and "go back to the ward." Shocked and soaked in alcohol, she runs out of the party and into the woods surrounding the house.
After the incident, the girls pile into Lindsay's car and head home. As they are driving while listening to music and having a good time, Sam looks down at her phone as the time turns to 12:39 a.m. when the crash happens and she wakes up in her room starting the day over again.
Sam tries reliving the day in several different ways: trying to save her and her friends by staying home from the party which still results in the death of another character, alienating everyone and sharing a moment with someone she's bullied, mending her relationship with her mom before school, skipping school and spending quality time with her family, mending her relationship with Kent, and trying to stop Juliet from committing suicide before waking up one morning and coming to terms with what had to be done and finally getting it right.
"One of the things that 'Before I Fall' does is it dignifies the teenage experience," Director Ry Russo-Young said in an interview with Indiewire. "It's a time when you're really asking yourself these hard questions of who you are and what your purpose is. I think that is the universality of the story — we should all be conscious of how we treat others."
Though we do miss experiencing Sam go through the stages of grief that were portrayed in the book, the audience does see changes in her that can only be described as her coming to terms with what must happen. In the end, Sam learns of the negative impact that she and her group of friends have had on other people's lives and eventually succeeds in making things right.