Artist Spotlight: Alexa Lauro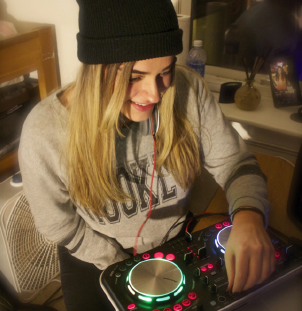 European rave culture has swept westbound across the Atlantic and brought with it a new digital art form of musical expression. Teens and twenty-somethings are trading in Coach bags for Coachella tickets, reveling in the trance that house music leads on.
Alexa Lauro is just one representative of the influx of female DJs that have been encroaching on the predominantly male industry.
Miniature turn tables on the18-year-old's desk are the only indication that she has been swallowed by the rave sensation that's taken the music industry by storm. Betty Boop stickers adorn the wall above her bed while pictures of family and friends neatly line the edges of her closet door frame. Lauro transforms her unassuming dorm room into a musical utopia and the neighbors don't seem to mind.
"I find myself sitting in class and thinking 'I just want to practice'," she said, "and I'll lock myself in [my room] and just blast it. Like, everyone knows when I'm playing my music they'll just walk in, they want to be a part of it."
The Park Slope, Brooklyn, native hides under an olive-green beanie and hipster-chic glasses. She searches for the right words, careful not to come off as boastful as she discusses her growth as a DJ. She first experienced this new music scene when she shadowed her cousin, DJ Vitale, two years ago at the Highland Ballroom in lower Manhattan.
"I remember watching the crowd from the DJ booth," said the former pharmaceutical employee. "[DJing] looked so cool and I wanted to try it."
She purchased the equipment and programs necessary in the weeks that followed, and embarked on a journey that would become her private getaway.
"The people who go to all the raves are just so friendly," Lauro said. "They're also all on [MDMA], but they're there for one reason – not to fight. At clubs you'll see a lot of fights but at raves and EDM festivals you'll just see a lot of love."
Eminem makes the case that "music can alter moods and talk to you" in his rap song "Sing for the Moment." Many studies have proven that music has the potential to promote healing among the sick and increase the well-being of the healthy. Lauro describes herself as an ordinarily shy person, but when she sees that people are enjoying her music it gives her confidence.
DJ Lex blends her own mixes of house, hip-hop, and trap music, yet still enjoys the heart-felt, Indie-Pop songs of Lana Del Rey.  She admires artists such as R3hab and Calvin Harris, both of whom she met and spent time with backstage. Nervo, a female twin DJ duo, inspires her the most.
"I feel like female DJs are up and coming," said the freshman, who has yet to declare a major. "My dad thinks I'm just going through a phase and for me, this seems to be a longer one. And even though [DJing] is a hard career, there aren't enough girl DJs, so it can be an advantage."
Lauro has been in talks with Paulie's, a local bar, about spending a night in their DJ booth.
"I just want to make sure people have a good time," Lauro said.
While DJ Lex will be busy inquiring as to whether or not the crowd is in fact having a good night, her audience is likely searching for her response to the only appropriate question of "Where Brooklyn at, Lauro?"
About the Writer
Cecilia Levine, Managing Editor
Cecilia Levine is a senior applied psychology major from West Hartford, CT. She began writing for the paper as Feature Editor in the spring of 2013. When...