SDCA Plays Matchmakers: Shawn and Meagan Livingston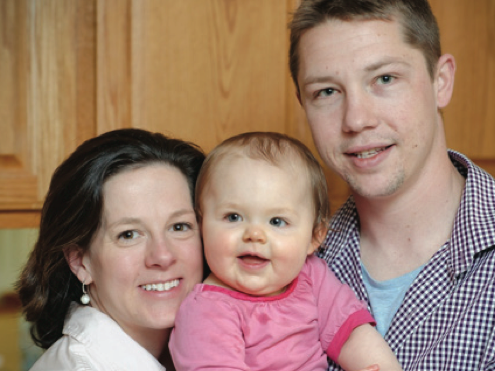 Each day at 5 p.m., Associate Director of Student Development and Campus Activities (SDCA), Shawn Livingston, makes a B-line from his office to his daughter's day care, and then back to the Briarcliff campus. Although Livingston spends much of his time on Pace's property, only some of it is work related and the rest is devoted to his family.
"When I leave work, I don't feel like I'm still at work," said Livingston, who lives in Dow Hall with his wife, Meagan and their 23 month old daughter, Kiera.
While students bury themselves in their books, the Livingstons are tending to a family, which can be traced back to the couple's early days in the SDCA office. Shawn first spotted Meagan on his way to the fax machine back in 2006, right before summer orientation where Meagan was interning for her second summer.
"The first time I saw her I said to myself, 'I have to get to know this girl,'" Livingston said.
The couple became well acquainted through the long hours that they spent together during orientation, upon which they found many commonalities. He studied elementary education, and so did she; neither ended up teaching. She was a volleyball player, and so was he. Meagan introduced Shawn to her circle of friends, one of whom was his fraternity brother during his undergraduate time at SUNY New Paltz.
After two months of dating Shawn and Meagan moved in together.
"When you know, you just know," said Shawn, who popped the question on Valentine's Day of 2008. "Our parents told us that we were crazy but we were like, 'Guys, we know what we're doing.'"
Shawn and Meagan exchanged vows in June 2010 and moved onto the Pace campus when Meagan was five months pregnant.
"The University really takes care of us," Shawn said. "We are fortunate and blessed."
The proud parents plan on moving out one day, but until then, Dow Hall residents should continue to keep noise to a minimum.
About the Writer
Cecilia Levine, Managing Editor
Cecilia Levine is a senior applied psychology major from West Hartford, CT. She began writing for the paper as Feature Editor in the spring of 2013. When...