Tyler Kalahar Advocates Importance of Civic Engagement Through Alternative Spring Break program
The title "Program Coordinator" doesn't even start to describe Taylor Kalahar and his role in students' lives at Pace. For the last three years, the Center for Community Action and Research has benefited from Kalahar's passion for civic engagement.
"I enjoy seeing students understand the power they have to shape the world around them," Kalahar said. "We all have a responsibility to the community and the best way to find out that responsibility is to participate."
Kalahar is the Primary Planner for Pace University's annual Alternative Spring Break (ASB) program that is going and has been going to the Rockaways since 2012. Roughly 15 students are accepted into this volunteer program each year to rebuild houses that were destroyed in Hurricane Sandy. This strenuous three-day program has students working eight hour days.
Kalahar explains how important it is to be an active participant in the community.
"We all have a choice to participate or not, but you're giving up some of the power you have by opting-out," Kalahar said.
The program, according to the university website, engages students in a community in need of help and actively involves them through "volunteerism, activism, special guest speakers, excursions, and films." A variety of Pace Pleasantville and NYC students alike have the chance to apply to this competitive program as offered by the Dyson College of Arts and Sciences.
"We try to get as wide a net as possible to do the project so we can all learn from each other," Kalahar said. "…people with different perspectives, people with different levels of leadership experience, people who haven't been on the trip before…"
Kalahar offers to help organize weekend trips to the Rockaways and encourages students to to volunteer on their own time. Although the deadline to apply for this years ASB trip has past, mandatory information sessions began in late January/early February for perspective students, with applications typically due in the third week of February.
"When I heard about ASB, I knew it was something I had to do," Community Outreach Extraordinaire, Timothy Martinez said.  "At first it was just because I thought it would be a fun trip, but after attending an information session, I learned just how drastic things actually were. I had no idea people were still out of their homes and so close to my own home, as well."
With many other places in need, Kalahar explains why the program focuses ASB to the Rockaways.
"The reason we choose to do Sandy-clean-up is because we don't see the complexity of the abroad problems and we can learn about how it [Sandy] impacts us locally," Kalahar said. "Students ask why we aren't going abroad, but some of the other places aren't safe and/or aren't ready for us."
ASB programs that ran in the past include: Hurricane Katrina in New Orleans and Act on Poverty in NYC. ASB helps students see the difference they are making in the world through being actively involved.
Not only does this volunteer work help a community in need, but students get a once in a lifetime experience from it.
"The experience was an amazing one that I will always remember," Martinez said. "I highly encourage others to take advantage of the opportunity the Center for Community Action and Research provides and help make a difference."
About the Writer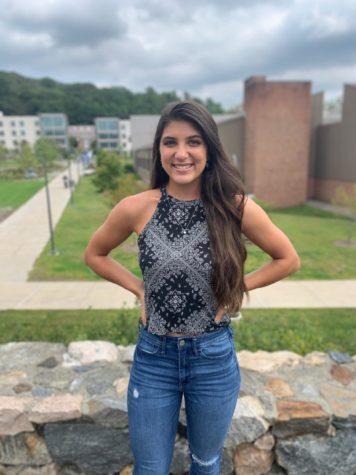 Christina Bubba, Editor-in-Chief
I am a senior Digital Journalism major with a minor in Public Relations. On campus, I am Editor-in-Chief of the Pace Chronicle, captain of the Cheerleading...