How a Pace Graduate took the Entertainment Podcasting World by Storm
Kwadar Ray , Managing Editor
October 28, 2018|140 Views
When Matthew Bailey began podcasting on July 1, 2013, he took it seriously. Though it formed out of boredom during the summer leading into his freshman year at Pace, he was dedicated to the craft and making his show as great as it can be for as many listeners he could obtain.
But now, Bailey's podcast, Talk for Two, has grown more than he has ever expected, with more than 10,000 downloads an episode. The 2017 Pace graduate has interviewed the likes of Bob Barker, Carrot Top, Steve Martin Don McLean, Larry the Cable Guy, Nancy Grace, and a host of other world-known celebrities. And he admittedly does not know how it has been so successful.
"I can't tell you what it is about me that gets people's attention because I don't think I'm that good because I'm the person who talks the least, and it's my own damn show," Bailey, whose show has 187 episodes available on iTunes, said. " I don't know why people gravitate to me and I build relationships with publicists and managers… but I'm so grateful."
"Talk for Two" features the Pace graduate interviewing well-known musicians, authors, actors, comedians and fellow talk show hosts. It initially began as a ventriloquist podcast, called Ventriloquism Weekly.
Bailey's first guest was his friend Vinnie Ewart, a former NYPD officer and ventriloquist. Six episodes in, Bailey got his first big interview.
At a ventriloquist convention in 2013, Bailey, who did not even carry a business card back then, handed Terry Fator, a world-renowned ventriloquist, his contact information on a piece of paper in hopes he would get back to him.
After taking a math placement test a few weeks after at Pace New York, where Bailey took most of his courses at, he received a message from one Fator's representatives letting him know that the ventriloquist was available for an interview. The rest is history, as not only are Bailey and Fator now close friends– Fator sends the Pace graduate memes every day–but the show took off into what it is today.
Bailey may not understand how his show has gotten so big and why publicists and managers respond to his requests, but it is obvious his tenacity and dedication — but not deseparation — to obtain an interview is what separates him.
"What's the worst they can can do? Say no," Bailey said. "It's none of my business what anyone else thinks of me, the worst they can say is no. They might be brutally honest and say 'I'm not interested, you don't have the numbers, this isn't the show for us.' I've been told all that."
Bailey's charm jumps through the audio when interviewing his guests. That is all due to his love for conversations. The former film and screen studies major believes lack off good conversations is the cause of many problems in the U.S.
"My inspiration is the idea of having longer conversations," Bailey began. "We are having a conversation that means something. And in our world of viral hits and misses, bits and bites, we don't have conversations anymore. I think that is why we are so politically divided, I think that why tensions are higher than ever in this country. And I think that's why attention spans are just in the toilet because no one wants to have a conversation."
Conversation and the urge to know more has driven Bailey continuously throughout his life, as his strive for his love for talking began as early as elementary school.
"In terms of what inspired me, I was the kid who asked too many questions, I was the kid who monopolized the teacher's time and today I'm still nosey," he said. "It's just a quality and for years, I was told it was a negative. [Teachers] used to put in the progress report 'He asks too many questions.' I was limited the number of questions to ask. I just loved to ask questions, so my way of thinking about questions is different from other people and I can't put a finger on it."
Asking all those questions, as much of a nuance it may have been for teachers, paid dividends for Bailey four years into his podcasting career. While preparing for a midterm exam in the hallways of Miller Hall in March 2017, Bailey received an email that he had received two tickets to attend a press conference and interview Garth Brooks, the best-selling solo albums artist in the U.S with 148 million domestic units sold.
The interview was special for Bailey and meant things had come full circle for him, as Brooks was the man he was looking to speak with since the show was nothing more than a ventriloquist podcast featuring Bailey mainly speaking with friends.
"The favorite experience was Garth…with Garth that was special," he said. "Before college I called my friend Vinnie and said 'Vinnie, I'm doing a podcast will you be my first guest?' That was two months before starting college, and two months before graduating college, I interviewed the one person that the minute I plugged my microphone in in 2013, I said I'll never get a chance to interview someone like this but let's see how it goes. I get my five minutes to talk to my childhood hero. So that is easily the best experience. There have been better convos because the one-on-one was just five minutes but in terms of something I'll never forget for the rest of my life, I can't top it and nothing will top it. Not even Bob Barker."
Bailey presented the interview for a project in his Audio storytelling course on the Pleasantville campus. He, unsurprisingly, was the lone student to interview a world renowned celebrity for the assignment. But, it was not to brag or show off, he just wanted to finally display the work he has put in for the past four years because at the New York City campus, the outlet was not provided to him.
"I'm sure people probably thought it was being conceited," Bailey said. "Like, 'Who does this guy think he is?'" It's just i never had a chance to demonstrate… the work I had done and the level at which I wanted to operate when I got out of college to peers or professors because that channel didn't exist in the city. So I wasn't going to squander the opportunity."
Bailey has not accomplished all things. There are still celebrities he is looking to interview, including Gordon Ramsey, Carol Burnett, Michael Flatley, and most importantly to Bailey, Tony Shalhoub.
But despite not getting all the interviews he wants just yet, the graduate has taken the podcasting world by storm. He offered advice to students aiming for a career in podcasting or talk show radio.
"Plug the microphone in and start talking but care about it," Bailey, who fittingly asks his guests for advice at the end of each show, said. "Don't do three episodes and discard it, if you're going to take breaks, know why you're taking the break. Just do it, but care about it."
He also provided some advice for when one gets to the interviewing stage.
"Ask a question, let them answer, and when they think they're done, don't say anything," he began. "That anxiety comes in and they say 'Oh crap they want me to say more.' It's not an abusive thing, but it'll kick in and then you'll get more out of them. And also, just listen."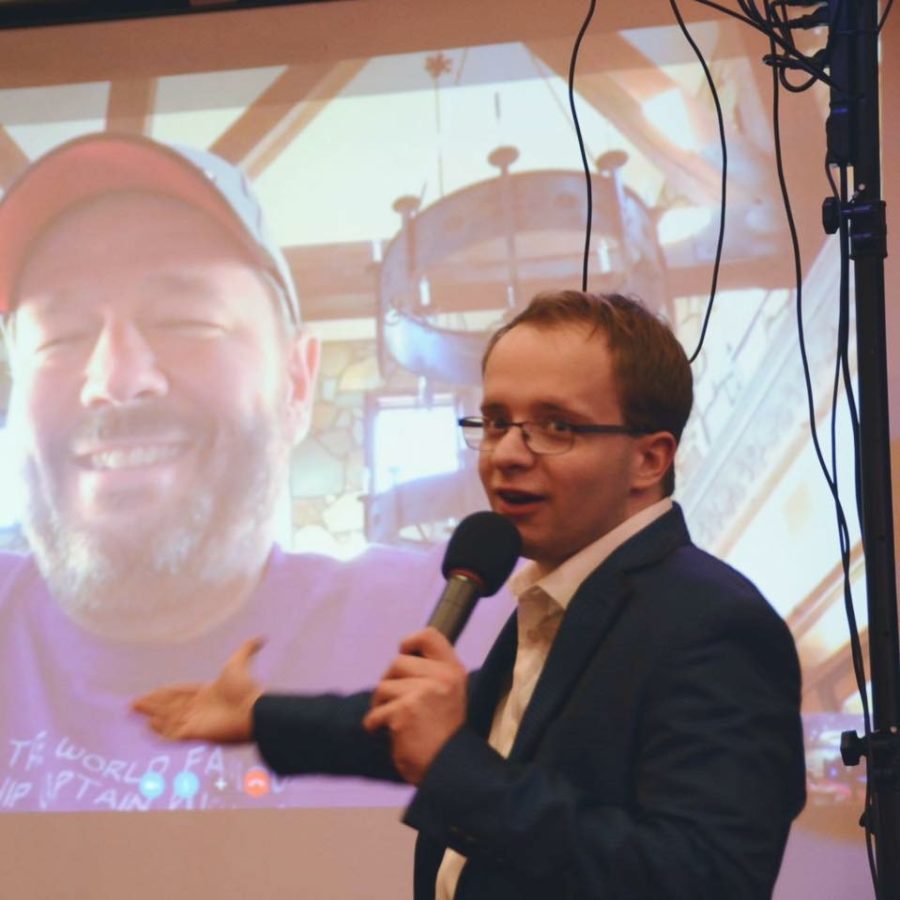 Bailey's future is a bit unknown. He still does not make much money from Talk for Two, but that was never the goal, as he does the show for the love of it and to help to build his portfolio. That portfolio may lead him into returning to the Pleasantville campus, which he believes the university greatly undersells, or he may move out to Las Vegas or Tennessee
Regardless of where he goes, Talk for Two will follow. And as the show continues to grow, Bailey is constantly reminded of one of the reasons he continues to do it.
"I'm very proud to do a podcast but it's its own worst enemy when it wants to exist in a digital techy space and that's the only time anyone wants to discuss what a podcast is," he said. "The demographic is not expanding for podcasts because no one cares to tell the older generation how to access it, and it's really easy.  So, that's when I began to care about it. When I realized I'm doing a little more than a podcast with someone talking in their basement, I'm doing a radio show that I care about and podcasting is a way to get it out there."