The Pep Band Experience
Crisp fall air, bright sun, golden trees, the scent of fallen leaves and the turf on the field. A crowd full of fans, two teams, one winner… and a group of musicians stationed behind the field goal, screaming, cheering, and awaiting their cue.
You see it on TV and in movies- the band geeks lined up to add flare and atmosphere to the iconic sports scenes. If you have ever attended a football or basketball game at Pace, you have probably heard our band playing during time-outs and at half time. But what is it like to be a part of the band?
I joined Pace Pep Band my freshman year. I played flute in high school, and I loved both the music and sense of community that came with being in a school band. When I heard from my orientation leader that Pace had a pep band, I knew that I would be signing up when I arrived in the fall. Since then, I have been able to enjoy the fun, lively experience of playing music at Pace's games.
COVID shifted the band's focus to online projects last year, but now, we are in person again and happy to be back. Back in October, we got to sit on the sidelines of the Homecoming game against Franklin Pierce. We had an excellent view of the field- albeit a dangerous one; as I said earlier, we sit right behind the field goal, which means that we are right in the line of fire when the teams go for the kick. Still, everyone in the band had a great time.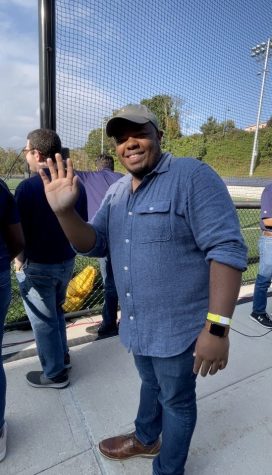 "One memory that stuck with me the most was seeing and hearing the excitement from the bleachers during overtime," says Ashleigh Brown, a grad student who plays clarinet for the band. "Everyone was cheering and stomping their feet, the energy overall was insane and very upbeat… My favorite part of being in the band is the fellowship. We look out for each other, crack jokes during games, and hold each other accountable. We make a really good team and I'm very proud to be a part of it."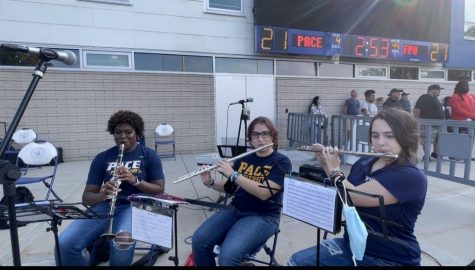 Brown also joined the band during her freshman year after hearing about it at orientation. She has been involved in band since fifth grade and was excited to continue participating when she came to college.
Brittany Pezzola, another grad student who plays the keyboard, was one of Pep Band's founding members when it first came to campus in 2016.
"At the time, I was interested in joining any music clubs if possible so I can express myself by playing the keyboard," Pezzola says. "After I went to the first meeting, I knew that something great was going to happen with our pep band. So I continued going to rehearsals and eventually we worked our way up to playing at sports events on campus. As a graduate student, it's nice to see how far the pep band has gotten on this journey to bring Pace University joy with our music during the sports events. My favorite part of being in the pep band would be the members because we all get along and work together to perform well."
Pep band's newest members say that they like the community that they have found here. Freshman saxophone player Lorenzo Osorio says that his favorite part of being in the band is the sense of comradery and the chance to be part of a tight-knit, welcoming group.
"I was going into the first football game cold, not having music or a uniform or anything, and I was so nervous, but once I met Phil I immediately felt better," Osorio says. "During that first football game, I was reminded of everything I loved about high school band, even if it looks a little different."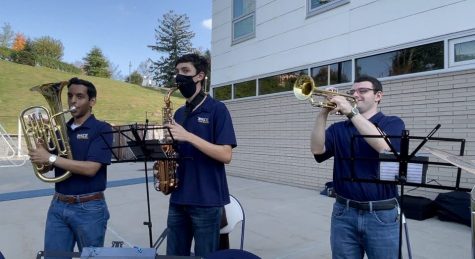 "Phil" refers to Philip Monteiro, a law student who plays trumpet for Pep Band. Much like the rest of the band, music has always been part of his life, and he wanted to continue when he came to Pace. He googled "Pace University band" just to see if one existed and joined after he found out that we did.
"I enjoy spending time and making music with like minded people," Monteiro says. "My favorite part of this past Homecoming game was Pace getting that last touchdown and everybody going completely nuts."
Freshman flute player Kat Brennan also enjoyed the energy at the game.
"Everyone was shouting and cheering, and it was a really nice experience to have," says Brennan. "I've been playing my flute for a decade now, it's a part of me, and pep band helps me keep up with it in a way that is super fun and keeps me from pushing it off to the side."
Freshman Lawrence Merriam joined the band to have an outlet for drumming. He enjoys the creative freedom and lack of sheet music that he has when playing.
"A memory I have from the Homecoming game is jamming to the music played through the speakers during breaks," Merriam says.
As for me, my favorite memories from our Homecoming game, and Pace football games in general, include cheering, screaming, joking, and laughing with my fellow bandmates, the suspense that comes as we watched the game unfold, and the energy that comes with playing fun songs in a group setting. I remember last year when we met on Zoom, and the experience just felt different. The feeling of the music all around me and the life that each player put into it did not come through as well over the computer. Don't get me wrong, I am happy that we still managed to do something when we could not be together. However, I am even happier to be back with everyone now, to welcome the new people, to play together in person, and to engage in our tradition of yelling "For who?" during the announcer's long pause when saying "It is first down and ten…. For Pace!"
I am grateful for all the memories that I have with the band so far, and I cannot wait to make more this year!
Also, click here to see a TikTok that Pezzola made at the game!