Marvel Phase 4's Defining Moment: A Review of Black Panther: Wakanda Forever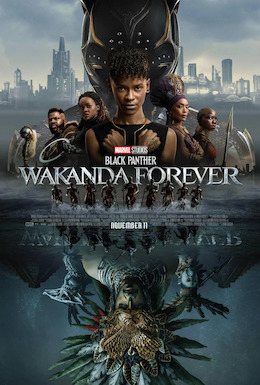 The long-awaited sequel is here. Black Panther: Wakanda Forever was released November 11th and so far, has had plenty of success and praise, and for good reason.
With this sequel, exhibiting a  majority of the cast returning to their roles, the film proves multiple things. It emphasizes how much of a loss Chadwick Boseman was, both to the fictitious nation of Wakanda as King T'Challa and to the world in acting. It reaffirms Director Ryan Coogler's directing ability in action films and accurately portraying human emotion. Angela Basset's performance proves that she is long overdue for her Academy Award and just her second nomination, (firstly for What's Love Got To Do With It, 1993.) Letitia Wright as Shuri proves that she deserved every second of screentime in Black Panther, (2018.)
Coogler does well with handling Boseman's death and the decision not to recast him. King T'Challa's departure from this earthly plain is apparent and respectful even as he is offscreen. The usual Marvel banner is silent and replaced with clips of Boseman, accentuating the great loss of Boseman. The focus on moving on is carefully explored with a focus initially on Princess Shuri and Queen Ramonda in transition. The exploration of Wakanda as a powerful nation is beautifully weaved in from the mid-credits scene of the prequel.
The introduction of Namor is a huge show of power for both him and his people. It also introduces a common enemy between his people and the Wakandans. The Wakandans however are already known by the world, as seen in the final scene of the first movie with King T'Challa introducing the nation. The attitudes of the two are apparent in how business is taken care of and how the nations talk to each other.
A colorful movie, Black Panther: Wakanda Forever is sure to pick up awards not only in acting but in effects and editing. As seen in the trailer, Namor's flight is mystifying and intimidating. The score was perfect in reflecting emotions and nervousness. For a Caribbean person like myself, I know hearing a certain chant had me antsy because of the history it is associated with. The back story of Namor will echo a message that rings throughout the global south and the disadvantaged.
As unfortunate as it is that Boseman died, let alone before production for this movie even began, this movie was so perfectly crafted. It rivals The Dark Knight (2008) having paid its respect to the late Heath Ledger. The increased roles of each character are beautifully crafted to represent how they wish to keep Wakanda healthy at home and present in the world. Ryan Coogler and the cast again master the ability to capture adequate amounts of emotion and action that made the first such a commercial success and enjoyable watch.