Setters Profile: Casey Gelderman
Women's Lacrosse Leader And Friend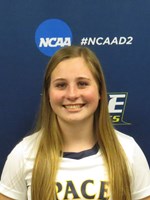 Some would say that there's nothing more special than family. However, people find second families that are just as influential. Sports teams become second families rather quickly, which happened to be the case for freshman and women's lacrosse captain Casey Gelderman.
"We are all extremely close," Gelderman said. "We kind of knew each other, but we didn't. We really stuck together in the beginning and we're pretty much drama free, which is a huge benefit. We're just incredibly close."
Hailing from Farmingville, Long Island, Gelderman began her athletic life by playing soccer for ten years. Gelderman's younger siblings, Kyle and Lindsey, became the catalysts for Gelderman's lacrosse career.
Now at Pace, Gelderman joins teammates Emily Ankabrandt and Angela Kelly as captains of the women's lacrosse team, which enters its inaugural season with a roster of 20 freshmen. This is the only Pace team comprised entirely of first-year students.
Being captain means that Gelderman is in a role model position, which she hopes to use in order to instill belief in the team's talent, which they will need as they head up against tougher and more experienced teams.
"I'm confident," Gelderman said. "I really wanted to be captain; all throughout the fall I worked really hard and I'm very happy that my teammates chose me and trust me. The leadership has helped me become someone that my friends look up to or go to if they need advice."
Gelderman's leadership style can be seen in her beliefs. She is a supporter of the idea of giving it 110 percent, a philosophy that applies to all aspects of Gelderman's life, including academics. But Gelderman can be said to be the silent leader, noting that she doesn't have a boisterous on-field personality.
She sees herself as the big sister of the group, despite being the same age as her teammates. Gelderman shows confidence in her leadership abilities and doesn't believe the task of being captain to be hard. In fact, she was captain in high school as well, where she shone brightly.
She played volleyball, ran winter track, and played lacrosse in high school. During her time with the lacrosse team she earned an All-County nomination her sophomore and junior years, winning the Coaches Award during her sophomore year.
Volleyball saw her win the 2013 Defensive Player of the Year, while also being named to the All-League and All-County teams. During her senior year, Gelderman's school named her the school's Most Outstanding Athlete.
She's part of RHA and loves being able to bring her residence hall members at Valley Hall together. She really likes her Resident Assistants, which she considers some of her best friends.
All of these things are what make Gelderman who she is: a confident leader who looks to help lead her team to a successful season.
Women's lacrosse opens its inaugural season Sat., Mar. 7 at home vs. the Warriors of Nyack College.