2016 Softball Season Preview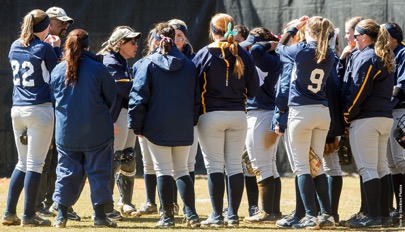 Pace softball relied heavily on their leadership and their young talent to carry them to a 25-17 overall record in 2015. They won nine of their first 11 games, the pitching staff accounted for all 25 wins and 17 losses, they fielded to a .971 fielding percentage, and the offense outscored opponents 210-134 runs.
The Setters lost 8-3 to Southern New Hampshire University in the second round of the NE-10 (Northeast-10) playoffs and lost their two contests in the NCAA Regional tournament.
The playoff run set the goal for the softball team immediately after their 2015 season ended.
In order to go beyond the second round of the playoffs they have devised short-term and long-term goals where they address what they did each day to be successful and then getting back to playoffs, respectively.
"We still see the potential to get to where we left off last year, and I think we have the talent and the ability to get there," said pitcher Caitlin McCann, who led the staff with 11 wins in 2015. "It's the same as a student. Each day you want to do the best you can on homework, but your end goal and end of the semester you want to get an A in the class."
Much like 2015, they are going to rely heavily on chemistry to mesh the team together. They feel their only weakness is youth.
"I think, being a freshman [last year], the seniors definitely helped me mesh, be part of the team, and we formed a bond really quickly," said sophomore shortstop Ashley Lew. "I felt comfortable on the field playing next to them as well as talking to them off the field."
There were three seniors last year as opposed to the two current seniors, who are greatly outnumbered by the younger classes. However, as a result of 2015's roster being 57 percent (12/21) freshmen, a lot of younger players were forced to mature quicker.
There are nine additions to the team, two transfers and seven freshmen, but something like the sophomore class's maturity is something that will even everything out.
It also exemplifies the strength of their leadership.
The first 10 games are in Florida and the hopes are for the players to have a similar bonding experience as last year. However, most rookies can think of it as a vacation.
"Freshmen tend to pack to Florida like they're going on vacation," Head Coach Claudia Stabile said. "Seniors take one extra article of clothing because they know they're playing ball for five straight days. That's the growing process in terms of the difference between a freshmen and a senior."
Softball's had the chance to experiment and begin meshing in fall ball, but it will face the regular season soon.
Softball will travel to Clermont, Flor. to play their first 10 games of the season starting this Friday. Their first home game will be March 20 at the Briarcliff softball field.