Pace Field Hockey faces Déjà vu in Another Playoff Loss to Assumption, but their Season May not be Over Yet
Pace Field Hockey faced the end of its 14–game winning streak after the team was defeated by Assumption College during the Tuesday night NE-10 Quarterfinals. The top-seeded Setters let in a single goal in the second half of the contest for the final 1-0 outcome which dropped the team to 17-2. 
This home loss was painful, but not entirely unexpected. The Setters, who are the second-ranked team in the nation, may have defeated Assumption earlier in the year 4-1, but Assumption and Pace faced off in the same quarterfinal contest last season and the Setters were upset 2-1 in overtime. 
"I feel like a lot of us could have prepared better individually," stated senior and NE-10 first-team midfielder Paige Predmore. "Being the number one seed, I think we just assumed we were going to blow over them. But they definitely did their studying on us, they came out like I've never seen them before."
The Setters put three shots on goal in the first half, but Assumption's goalkeeper, Sarah Bodzinski, fought back each time.
"The team was trying hard," Predmore said. "I don't think it was lack of effort, but I think we weren't in attack mode like we should've been. It didn't hit us that we really need this goal, right now. It just didn't feel urgent."
After Assumption's goal in the 44th minute, the Setters could not find a way to recover, and it was game over as Pace lost its first game in the NE-10 all season.
"I think we just didn't really get in the groove of things," said Head Coach Kayte Kinsley, who was recently awarded the NE-10 Coach of the Year award for the second season in the row. "We normally start playing our game very quickly, and I just felt like we struggled to get into our groove."
"It's not like we played bad, one of the things that makes them [the Setters] so successful is when they play as a team," Kinsley continued. "It just wasn't clicking."
Despite this loss, the Setters' season may not be over yet. The team will now wait to hear their standings in the upcoming NCAA Tournament.
"I think these girls worked really hard throughout all of the season," Kinsley said. "They put themselves in a really good position to hopefully continue. I think everything they've done leading up to this point will put us in good standing."
If the Setters are selected for the NCAA Tournament, Coach Kinsley has high hopes for the team as it searches for its first postseason victory.
"We've never won a playoff game yet, so we just have to understand the importance of this game," she said. "We win this game, we make it into the final four. We just have to play our game, and when we play our game, that's when we play well."
Even if Tuesday's loss spells the end of the Setters' season, their impressive play since September remains admirable. Along with Kinsley and Predmore earning awards, Grace Henderson was was anointed the NE-10 rookie of the year, Halley Rose earned first-team honors, Jane Kasparian and Mia Lennon both received second-team honors, and senior Katrina Mikitish rounded out the honorees with third-team honors.
The 2018 NCAA Division II Selection Show is set to be aired on Nov. 19 at 3 p.m. on NCAA.com. 
About the Photographer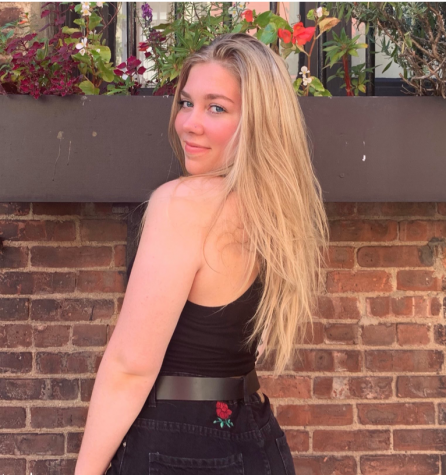 Sequoia Cumming, Editor In Chief
Sequoia Cumming is an honors-level senior majoring in Digital Journalism and minoring in Sports Media and Broadcasting. While starting as a contributing...