No. 11 Men's Lacrosse hits the road with a victory over Dominican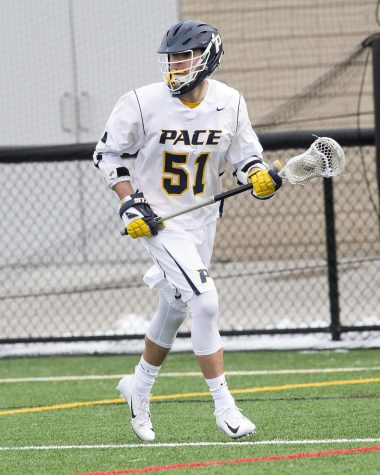 ORANGEBURG, N.Y. — The 11th ranked Pace University Setters visited the Dominican College Chargers yesterday where they won by a score of twenty to nine. 
The contest was close to begin the contest. Pace led the Chargers by only 2 points with a score of five to three at the end of the first quarter.
The Setters would break the game open in the 2nd quarter. 7 different Setters would score 9 goals in the 15 minute period. 6 Setters would assist with those goals. On defense, the Setters held the Chargers to 7 shots and just 1 goal which came at the 11:13 mark. The lead would balloon to 10 goals by halftime by a score of 14-4
Pace would score another three goals on Dominican College in the third quarter. It took Dominican until the 6:09 mark of the third quarter to score again before finding the net again 30 seconds later at the 5:39 mark.
Both teams scored three goals each in the 4th quarter.  Dominican's goals came consecutively allowing the Setter lead to fall to nine for a score of 18-9. Pace University scored the first goal of the quarter and last two to put the game away for a final score of 20-9, an 11 point margin.
The Setters' attackers led the way to victory.  Senior Jake Veres scored 4 goals and had 3 assists. Graduate Student Attacker, Kyle Casey had 4 goals and 1 assist. Tim Cairo, another senior on this squad, has 2 goals and 3 assists for the game.
The men's next contest is a home game this Saturday, March 12 when they host Wilmington University at Pace Stadium at 3 p.m.