Pace Swim And Dive Win Big At NE-10s
The 2023 NorthEast10 Conference Championships were completed yesterday. All teams have left Worcester Polytechnic Institute for their respective schools. Pace University Swim and Dive team returned last night. The bus is back in Pleasantville, full of players, coaches, and their belongings.
Accompanying them on their return is a lot of hardware, in multiple shapes and colors.
In Men's Swimming and Diving, Pace University finished 5th overall. For the  Women, Pace finished 4th overall. Individually, our athletes had plenty of success.
Plenty of noise was made by the divers. For the 3-meter dive, freshman Isabella Reyes won the silver medal finishing just outside the top 5 at 7th was Graduate student Amy Calandro. Reyes reached the podium again, this time for the gold in the 1 Meter Dive.
Captain and junior Sean Rorke comfortably won the gold medal for the 3-meter dive. His prelim score of 436.95 was 24.9 points better than 2nd place. For the final, Rorke scored 467.55, besting his second-closest by 32.25 point margin. He got the gold again in the 1-meter dive for his prelim score of 401.75 and 416.80 in the Final.
In sweeping Men's Diving, Sean was named The 2023 NE-10 Most Outstanding Diver. He bulks his resume and gives himself better odds at returning to Greensboro, North Carolina for the NCAA Tournament. Sophomore diver Greg Asayan also made Finals in both events for Pace. It was the first time in his career.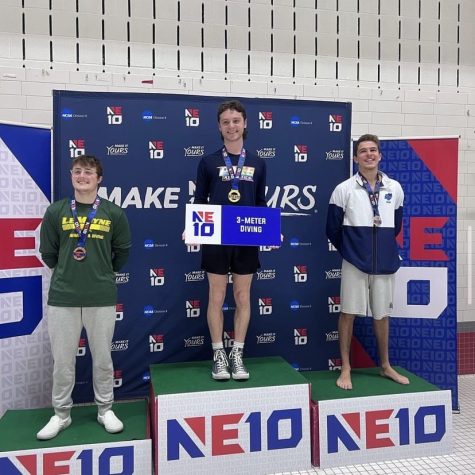 For the swimmers, freshman Sophie Greko made a name for herself among the NE-10 at WPI. Her Thursday began with winning the bronze medal for the 500-yard freestyle with a 5:19.30 time. It qualified her for the NCAA B cut. Greko swam faster than a newly established time cut for women's 500 as explained by SwimSwam. 5:19.30 also set a new school record. She would step on the podium again when she won a second bronze medal, this time for the 400-yard individual medley. Junior Rose Clark finished 9th
Greko got one more appearance on Friday. In the 200-meter freestyle, her final medal was gold courtesy of a time of 1:53.47. Fellow freshman Jean Donleavy finished in 1oth place.
For the 200-yard medley relay, Samantha Mok, Taiis Messado-Sanchez, Alaire Thomas, and Jordan Barbosa finished in 5th place.
The men's swimming team had a strong showing in Worcester with multiple top-10 finishes. Pace finished 4th in the 800 Yard Freestyle Relay. Freshman Owen Butryn, sophomore Xander Hughes, graduate student Sammy Gibson, and junior Chaz Johnson Jr were 7th in the 200-yard medley relay. Competing in the 400-yard medley, sophomore Javi Ferstler, junior Tyler Besnoff, Gibson, and Johnson placed 6th.
Ferstler would return to the pool for the 200-yard backstroke. Upon exit, he got to make his way to the podium. He finished with Silver courtesy of a 1:54.29 final time. His win secured Pace's final medal of the tournament.
This Conference Championship has been a success for the Pace Setters. Now they wait to see who gets to go to the NCAA Tournament. For now, it's basking in their victories and achievements.