2023 NE-10 Playoffs: Pace Women's Basketball Advances to Quarterfinals
Pleasantville, N.Y.- The 8th-seeded Pace University Setters defeated the 9th-seeded Saint Anselm College Hawks yesterday in the Goldstein Fitness Center to advance to the NE-10 Quarterfinals.
Pace's 81-56 victory over Franklin Pierce University on February 21st secured home-court advantage for the first round.
Quarter 1 was all Setters. The quarter started as a back-and-forth basket exchange.  Pace got their 3-point lead to 5 and eventually 7 courtesy of Katumina Mansaray's jumpers. Her 8th point put Pace up double digits at 25-14. At the buzzer, the score was 27-14 in Setters' favor.
Early in the second, forward Tower Lorde put the team up 30-14 on an And-1. Saint Anselm would outscore Pace 14-11 for the period but the lead would remain with the blue and gold. At the half, Pace led 38-28.
A Lauren Hackett three-pointer opened the second half, boosting Pace's lead to 13. It would be almost 5 minutes until either team scored again. The drought ended with Mansaray finding her 12th point of the game and Lorde her 9th to make it 45-28 with 5:32 left.
Saint Anselm would hold Pace defensively once again. The Hawks went on a 10-2 run to close the quarter. The Setters' lead shrunk from 17 to 9. The score was 47-38.
The fourth would not be more of the same. Forward Arianna Stockinger scored 5 straight points to open the scoring. Guard Shanice Sinclair hit a layup to put Pace up 58-43 with 65 seconds left, punching their ticket to the second round.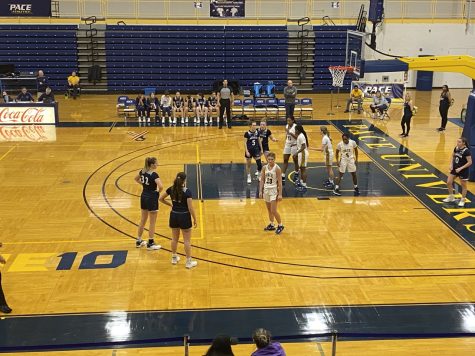 The final score was Pace 60, Saint Anselm 48.
Tower Lorde led the way with 13 points and 7 rebounds.  Katumina Mansaray scored 12 and got 2 assists. Arianna Stockinger was the third and final double-digit scorer with 12 points and 4 rebounds.
Shanice Sinclair had 9 points, 5 assists, and 5 rebounds. Lauren Hackett had 3 points, 4 assists, and 3 rebounds.
The Pace Setters will play in the NE-10 Quarterfinals for a second consecutive season. They head to Syracuse on Sunday to play 1st ranked Le Moyne College Dolphins.
Both teams won on the road. The Setters won at Le Moyne on January 7th  58-54, giving them their 5th and most recent defeat. The Dolphins got a road victory in Goldstein Fitness Center on January 24th, that score was 53-43.