Player History Made, #2 Women's Lacrosse downs #19 Saint Anselm College
2nd ranked Pace Lacrosse secured another ranked win over the 19th-ranked Saint Anselm College yesterday.
Both teams entered this game coming off a NE-10 game. Saint Anselm lost to 7th-ranked Le Moyne College, while 2nd-ranked Pace defeated 14th-ranked Bentley University for their 8th straight win. It was Saint Anselm's fourth straight game vs a ranked opponent, Pace's fifth straight.
Pace hit the ground running to start this game. In the first quarter alone, they scored a whopping 9 goals.
Pace got 4 in the back of the Hawks' net for the second quarter. Saint Anselm got one back in the quarter, but the deficit was already double digits.
At halftime, Pace led 13-1. Seven different Setters scored, filling the scoresheet fast.
The offense would not stop in spite of the halftime break. Pace got four goals in the third to Saint Anselm's two. The lead jumped to 17-3, a lead too big for the Hawks to overcome.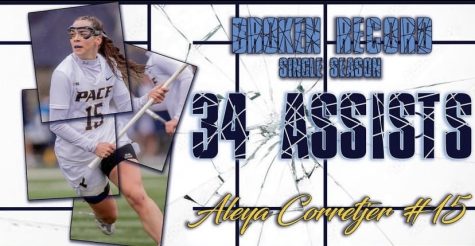 The final score was 18-7 Setters. Pace outshot Saint Anselm 39 to 17. Their record is now 11-1, 8-0 in the NE-10, keeping them top of the conference with 4 to play.
Leading the Setters was graduate midfielder Aleya Corretjer with 2 goals and 5 assists for 7 points. Her 5 assists brought her total to 35, breaking the Women's Lacrosse single-season record. Also achieving history is junior midfielder Angelina Porcello who scored her 100th goal, making her one of only 5 to reach triple digits in their career. She finished with 4 along with 1 assist for 5 points.
Graduate midfielder Emma Rafferty also reached 5 points, scoring 3 goals and assisting on 2.
Senior attacker Julie Urraro reached 3 points with 2 goals and 1 assist. Graduate midfielder Kayla Conway got 3 goals.
The Setters' next three are all on the road. First, it's to Springfield, MA to play American International College this Tuesday, April 18 at 4 pm. On April 22, Pace goes to play Franklin Pierce University in Rindge, NH with a game time of 2 pm. Their final road game of the year is in Worcester, MA where Assumption University plays host. That game begins at 5 pm.
The final game of the season is on April 29, their senior day at Pace Stadium starting at 12 pm.
Follow Pace Women's Lacrosse on their journey to the playoffs and their current battle for the first seed on paceuathletics.com/sports/womens-lacrosse. Watch all upcoming games on ne10now.tv/ and buy tickets at paceathletics.universitytickets.com