Coach Manning Wins 500th, Pace Baseball Overcome Assumption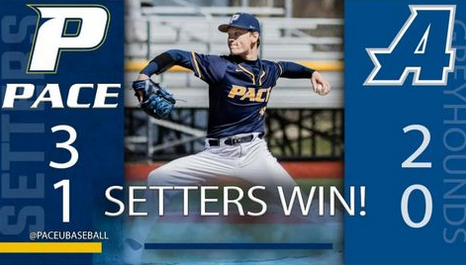 In Pace's two-game sweep of Assumption University Baseball, Coach Hank Manning won the 500th game of his career.
Manning entered the doubleheader vs the Assumption Greyhounds at 499 wins. Patrick Gleason got the ball to start the 1 pm game.
Graduate Infielder Mitch McCabe got the first rbi of the game with a first-inning single to right bringing sophomore outfielder Josh Miller home.
The Setters went up 2-0 when graduate Nate Carrimucci got a double, scoring sophomore catcher Hunter Goldstein.
The third inning was clearly the most hectic. Assumption got two runs in the top of the inning tied the game. Two singles scored them, but that was all they could muster. Pace themselves would bring across one more run in the form of McCabe.
Neither Gleason nor Macguire O'Sullivan for Assumption would give up any runs for the final 4 innings, making McCabe's run all the more important. Setters won 3-2, Gleason got the victorious decision, Manning his 500th.
Game 2 began at 2:50. On the mound for Pace is sophomore Vincent Civitella and senior Shane Cronin for Assumption.
Pitching picked up where it left off, keeping sharp. No runs were scored for either team in the first four innings, making it 7 scoreless innings over the 2 games.
Finally, Pace broke through for the only run of the game in the 4th inning. Goldstein scored courtesy of a sacrifice groundball by senior infielder Andrew Oakland. That made it 1-0 Setters, the eventual final score.
With a lead, Civitella completed his shutout victory, allowing just 4 hits.
Pace now stands at 23-7. Assumption plays host today in Worcester, MA for a second doubleheader.
Watch live on www.ne10now.tv