Pace Women's Lacrosse Wins First Ever Regular Season Title, Finish Undefeated
For the first time ever, The Pace University Women's Lacrosse Team won the NorthEast-10 Regular Season Title, finishing undefeated with a home win today vs Saint Michael's College on Senior Day.
They will host all throughout the 2023 NE-10 Championship, all games at Pace Stadium for each Pace opponent.
The Graduates
6 seniors were honored today before their final regular season game. Their contributions were highlighted before the game.
Starting with the midfielders, Jennifer Somner played in 43 and started 39.  Emma Rafferty started 49 of her 66 games, contributing 164 goals and 41 assists. Aleya Corretjer started 50 games out of her  52 games over 5 years, scoring 119 and assisting 100. Kayla Conway appeared in 66 games and started 62. For her career, she had 158 goals and 37 assists.
For attackers,  Jolie Urraro got 87 goals and 40 assists in the 48 games she played, 44 she started. In just 39 games, 22 started Sydney Juvelier accumulated 71 goals and 15 assists.  Katie Smaldone in 30 games scored 24 goals and dished 10 assists.
On defense, Delilah Doyle forced 69 ground balls and had 68 caused turnovers in 49 games played, 48 started. Lindsey Gelderman appeared in 24 games and tallied 3 ground balls forced and 4 caused turnovers.
Playoffs Scenario
Pace began today as the 1 seed, 11-0 in NE-10 play. The Le Moyne College Dolphins were 2nd, with a 10-1 record in the NE-10. That means the Setters held just a one-game lead.
At home, Le Moyne hosted Southern New Hampshire University(9-7) who want to improve their seeding.
Le Moyne needed victory and Pace defeat by a large margin to steal the 1st seed.
Pace only needed a win.
The games would be in progress simultaneously here in Pleasantville and on Le Moyne's campus in Syracuse, NY. Start times for Le Moyne vs SNHU was listed as 11:00 am. Pace vs Saint Michael's had a game time of 12:00 pm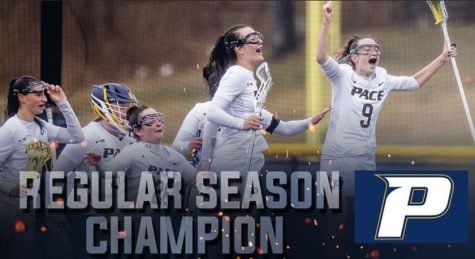 The Game
Pace opened with 9 goals, 6  coming before Saint Michael's got their first. They tacked on their other 3  following the concession. The Setters got 17 shots in the first quarter alone. They added 5 more goals in the second while holding Saint Michael's to one, again. At halftime, the score was 14-2, Pace leading.
Meanwhile, in Syracuse, Le Moyne defeated SNHU, 15-8, improving to 11-1, meaning Pace must hold the lead.
The Setters pulled away from SMC, scoring 4 more in the 3rd quarter to Saint Michael's 3, the deficit still large
Pace scored goal number 20 midway through period 4, marking their seventh time scoring 20, and fourth straight game. Saint Michael's scored two in the fourth, making it the sixth straight game Pace opponents score under 10 goals and 12th overall.
Pace won again 21, to 7, locking up home-field advantage throughout the NE-10 championship.
Senior attacker Sydney Juvelier led with 6 points on 5 goals and 1 assist.  Emma Rafferty tallied 6 of her own. on 4 goals and 2 assists. Her fellow Graduate midfielder Kayla Conway had 5 points(3G, 2A) and Aleya Corretjer had 4 (2G, 2A)
Pace's opponent is undetermined as there remains one NE-10 game. What is certain is a home playoff game.
Watch the women's lacrosse team begin their postseason on ne10now.tv/paceuathletics or buy tickets at paceathletics.universitytickets.com