Pace Women's Lacrosse Advances to NE-10 Semifinals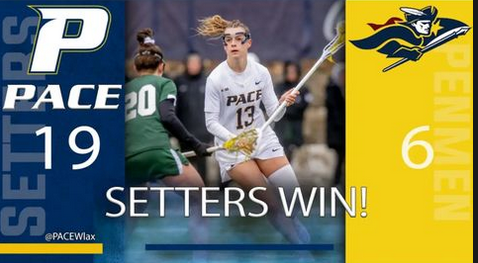 (1) Pace Women's Lacrosse defeated (8) Southern New Hampshire University in their NE-10 Quarterfinals at Pace Stadium this past Monday.
Both teams were in action last Saturday, April 29. The Blue and Gold won their previous game over Saint Michael's College to clinch the 1st seed while SNHU, then 8, fell 15-8 to Le Moyne College, failing to improve their seeding in the NE-10. It meant the Penmen were up next to visit Pace Stadium.
Gametime was at 7 pm. Pace scored first at 7:06, or just 6 minutes into the first quarter. It was another occurrence of The Setters hitting the ground running. They scored five goals in the first, to SNHU's two. Pace outshot the Penmen 13 to 3 signs of being comfortable.
Pace tacked on 5 more in the second while holding SNHU to just 1. Midfielders Emily Rafferty and Kayla Conway entered the break with three a piece. At halftime, the score was 10-3. The Setters were ahead, but SNHU was in range.
The Setters would be able to get a more comfortable gap. In the third, they would score 6. The Pace midfield would have no trouble going through the Southern New Hampshire defense. The same could not be said for the SNHU defense. Once again, they mustered only one goal. A deficit that large could not be made up by The Penmen in just 15 minutes. Their struggles on offense and defense were apparent.
The final score was Pace 19, Southern New Hampshire University 6. The Setters will move on to the semifinals of the 2023 NE-10 Championship.
Kayla Conway had a productive day with 7 goals. Angelina Porcello had 7 points of her own with 5 goals and 2 assists.
Rafferty added an assist to her three goals for four points total. Those three helped set a  new record for the most in a single season as a Setter with 69 behind the goalkeeper. Jullie Urraro also had a hat trick in the Quarter-Final. Aleya Corretjer added 3 points with a goal and 2 assists.
Pace improves to 16-1, 12-0 NE-10 on the season. They will remain at Pace Stadium, where 17th-ranked (5) Saint Anselm College Hawks visits following their quarterfinal victory over (4) Bentley University. Pace previously defeated Saint Anselm 18-7 on April 15
Game day is this Friday, May 5 at 6 pm. Watch live on ne10now.tv/paceuathletics or get tickets at paceathletics.universitytickets.com