Pace Women's Lacrosse To Play In First Ever NE-10 Championship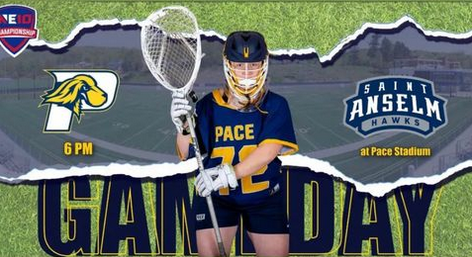 The Pace University Women's Lacrosse team will play in their first-ever NorthEast-10 Championship game. They advanced today with a resounding win over 17th nationally-ranked, 5th in NE-10 Saint Anselm College.
In the quarterfinals, (1) Pace defeated (8) Southern New Hampshire University 19-6 last Tuesday at home. Saint Anselm would escape with a road victory over (4) Bentley University with a score of 11-10. They earned themselves a trip to Pace Stadium the next round.
The winner of this game would either host or visit (2) Le Moyne College as they won against (3)Adelphi University earlier in the day, 17-6.
At the game's start, Pace began ahead. They opened with 4 goals in the first quarter. Saint Anselm got one back off a man advantage and another at the end of the quarter. Pace would get two between for a 6-2 first-quarter finish. It would also be the last goal Saint Anselm scores in this half.
Pace shut out Saint Anselm in the second quarter. The Hawks got zero shots off in the second while having 8 ground balls. The Setters would score six again on 12 shots. The defense was tightening its screws at the right time. At halftime, it was Pace 12-2.
Out of the break, the Hawks' offense continued to have trouble. While they got 2 shots in the third, there were still no goals to show for it. Meanwhile, the Setters got 5 more on 6 shots. Saint Anselm would turn it over 6 times adding to 15 over the half.  A 17-2 lead into the fourth quarter allowed Pace head coach Tricia Molfetta to take out her top players early. The Final score was 21-4 Setters.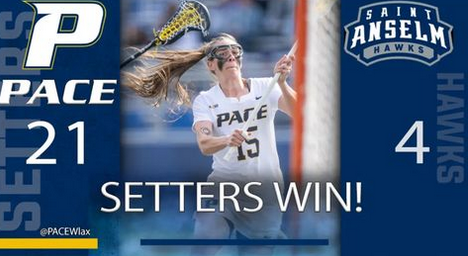 Leading the Pace boxscore was midfielder Julie Urraro with 3 goals and 3 assists. With 5 points (3G, 2A ) was  Aleya Corretjer who was named 2023 NE-10 Attacker of The Year just yesterday. Four points a piece was the tallies Kayla Conway and Angelina Porcello(3G, 1A) who were named Co-midfielders of The Year. Sydney Juvelier and NE-10 First Teammer Emma Rafferty both had 2 goals and 1 assist.
Sunday marks the second championship game for Pace Athletics in the 2022-23 school year. The University Field Hockey advanced to the 2022 NE-10 Championship Game but lost 2-1 to Adelphi University on November 20. The Women's Lacrosse now has a chance to win the first NE-10 Championship for Pace since the 2016 Softball Team.
The Le Moyne College Dolphins will return to Pace Stadium for the championship game. Pace previously defeat Le Moyne 16-5 on March 25, their first-ever win against the Dolphins.
Game time is at 12:00pm at Pace Stadium. Watch live on ne10now.tv/paceuathletics or buy tickets at paceathletics.universitytickets.com