New Course Offers Parenting, Prison And Pups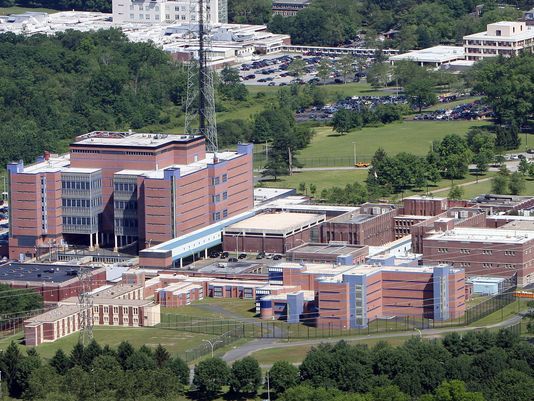 Pace's Criminal Justice Department will be introducing a new criminal justice course with a focus on corrections facilities management this upcoming fall semester on both the Pleasantville and City campuses.
The course—CRJ 331: Strategies in Corrections Management—will be taught by Criminal Justice Professor Kimberly Collica-Cox and designed to have students teach a parenting program to female Westchester County Jail inmates with children in hopes of teaching the importance of parenthood and family bonding.
The goal is to decrease the recidivism rate—the tendency of a convict reoffending—through its Parenting, Prison & Pups program, which incorporates Animal-Assisted Therapy (AAT) using dogs from the Good Dog Foundation as a way of helping inmates restore their mother-child bonds, improve self-esteem, and diminish intergenerational offending patterns.
Female inmates who are separated from their children are an at-risk population, according to Collica-Cox.
"Seventy percent of female inmates are responsible for a minor child and they suffer from high depression rates, self-destructive behavior along with other mental illnesses," Collica-Cox said.
The inmates that students will be working with can be in prison for any reason including violence, although Collica-Cox assumes most are incarcerated for non-violent offenses, as those are the most common crimes committed by females.
"For women, the top three charges that they are usually arrested for are public order offenses, like prostitution, property offenses, and drug offenses. It's mostly non-violent," Collica-Cox said. "There is a possibility we could have one or two [violent offenders] I wouldn't know until we actually start the class because the population changes so frequently at the jail."
The class time is split between time spent in the class, volunteering with the Good Dog Foundation, and volunteering in the Westchester County Jail.
This course is also part of a research project done by Collica-Cox who hypothesized that female inmates who complete an evidence-based parenting program augmented with AAT will have lower measures of stress, anxiety, depression, and disciplinary infractions, in addition to higher levels of self-esteem, increased contact hours with their children, more confidence in their parenting skills, and higher levels of engagement and retention, when compared with female inmates who complete the same parenting program without AAT.
"The feeling is that there is a lot of trauma involved for women when they are separated from their children, so the animals will be used as a tool in the therapeutic process," Collica-Cox said. "So the students who are going through this round will not only be coming to the faculty to help co-teach the parenting curriculum with me but also will be helping me figure out what's the best place to incorporate the [ATT]."
The course allows student something to put on a resume, as programs that give students hands-on experience working with inmates are rare, according to Collica-Cox.
"It is often difficult for criminal justice students to obtain criminal justice experience, especially with inmates, and this is an excellent opportunity for them to get direct experience working with incarcerated offenders prior to going out on the job market," Collica-Cox said. "This will be a great resume builder, especially if they do not have time to do a formal internship."
Collica-Cox created this program because after she started at Pace, she was put on the Community Relation's board of the Metropolitan Correctional Center where she discovered their female inmates were in need of programming. She proposed the idea to Executive VP of the Good Dog Program Bruce Fagin who supported the idea and helped her develop the program.
Ideally, Collica-Cox is looking to have a class size of around 15 to make it easier to rotate what students can come with her to Westchester County Jail since she can only have three students with her at a time and they can only come into the prison four times before they have to get full volunteer training, which would hold the program back until the Summer.
The course is three credits and satisfies the civic engagement requirement.
To register for the class students must email Collica-Cox at [email protected] to receive a background form that must be filled out and sent back to her for it to be approved. Once approved, Collica-Cox will give students a form to take to the Office of Student Assistance to register for the class.
The class will run on Tuesdays from 12:15 p.m. to 3:15 p.m. while the section with students working in the prison will be hosted before or after each class.
Anyone wanting to register for the course has to have their background forms submitted by the end of April.