Chartwells meets with SGA and Student Senate
PLEASANTVILLE, N.Y. —  The Pace University Pleasantville Student Government Association and Student Senate held a meeting with Auxiliary Services and Chartwells, the dining services company under contract with the university. The meeting came after weeks of student complaints and SGA publicly criticizing the prices of some retail items. The meeting took place on April 22nd at noon.
About 10 representatives for Chartwells and Auxiliary Services were present at the meeting. Notable people at the meeting include Kendall DeVos-Herrfurth, Associate Director of Dining Services who is said to be  frequently present in the cafe center and Kevin Henriquez, General Manager.
Members of the senate had the opportunity to ask questions relating to the quality of food, prices, and more options for students with dietary restrictions. The purpose of this meeting was for students and faculty to have a conversation about ways to better the dining experience for all.
Student Government's Executive Vice President Irach'e Teague asked about the dining services and meal plan options here in comparison to Hofstra University in Hempstead, New York, who are also under contact with Chartwells. SGA President Kimberly Mars questioned the committee on how complaints are handled and if there is a log of some sort. She also made mention of the Instagram account @anythingbutkessel, run by presumably an anonymous student in which the profile description encourages photographs of food mishaps. The account currently has 230 followers and 41 posts.
Prior to the meeting, The Pace Chronicle conducted an anonymous survey to students to gather information to show how dissatisfied students felt with the food services in Kessel Cafe. With 48 responses, we also got detailed accounts of the negative experiences individuals have had. Our responses were shared with Auxiliary services and Chartwells at the senate meeting last Friday and are available for public viewing below. 
From reports on food poisoning , to foreign objects in food, it is no wonder that 60.4% of students were either dissatisfied or very dissatisfied with the quality of food from Chartwells.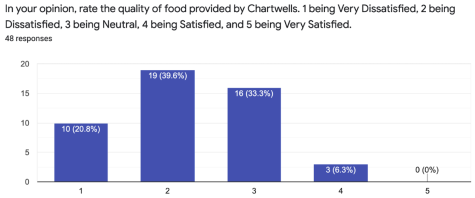 Only 3 students said they were very satisfied and no one felt they were very satisfied. 
When asked about how the dining experience could be improved for the whole student body, one student said, "Caring a little more! They're great cooks I'm scared it's mostly the quality of the food that is literally poisoning the students. I don't know if Kessel realizes the amount of food poisoning cases that have been happening due to what they are serving us." 
In the survey, students could share any personal experiences that they have had. Nearly every response from students had suffered an upset stomach, stomach bug, etc. There was also criticism for Kessel's use of GrubHub. Anonymous students expressed displeasure with inaccurate wait times for food to be prepared and the multiple occasions that the food ordering service was out of order. 
A majority of the discontent was focused on the prices of food and the issue of not having enough meal plan. One student described it as the "Food is extremely overpriced. How is a poke bowl nearly the same price as a full sized pizza? It costs too much to afford the necessary 3 meals per day, even if you try to do the "deals". The "deals" are also still pricey especially for those who have no money and have to pay out of pocket. They sell poke bowls for $13.55 and I could go into town and get one of better quality for CHEAPER. Food should be a given, not a worry for students that pay $70K to go here. Do better."
Although there was valuable dialogue happening at the meeting over prices and food quality, some members of the senate and SGA expressed that they were not completely satisfied with the discussion. There was mention of there being no student board for the Dining Services Committee this school year. As for Chartwells and Pace Dining Services, they are likely to be paid special attention for the upcoming semester.