Member of Pace Dining Services Management Resigns
Recently, a member of the management for Pace Dining Services has moved on from the university.
Kendall Devos, Assistant Director of Dining Services, has resigned from her position, effective sometime last week.
Devos served Pace's Pleasantville campus as the Assistant Director of Dining Services. She was noticeably absent from Kessel Cafe from September 19th to 27th. She referenced herself as "The Mom of Kessel." and was frequently in conversation with the chefs, staff, and students present.
Soon following this apparent change of staff, it has been noticed that Devos' contact information is no longer listed with the other high-ranking members of Chartwells. On the televisions mounted to the wall outside the cafe's main entrance, the staff members listed are now three. The change has not been reflected on DineOnCampus's Pace University-specific webpage but is sure to update soon.
We reached out to Ms. Devos but were unable to receive a response.
There are currently no signs of who will take on the position of Assistant Director. The early timing may delay any decision or announcement by either Pace Auxiliary Services or DineOnCampus
The timing of Ms. Devos' resignation comes as a surprise, as the school year is less than a month old. In terms of regulation, the overall organization of the stations has seemingly improved. There has been much attention to the new additions on the dining floor.
Dine On Campus General Manager Kevin Henriquez provided some information about Kessel.
On the topic of staff changes at Dining Services, Henriquez could not give much explanation citing confidentiality. He did explicitly state that all who have left went of their own will which infers an amicable departure between Devos and Chartwells.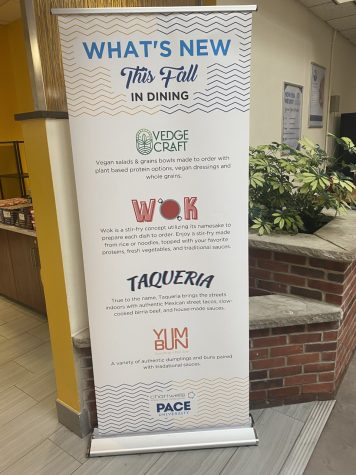 Henriquez offered assistance to all who are unsure of what they may choose to eat. He named what precisely each new station addresses, citing "Wok" and "VedgeCraft" as new cook-to-order stations. He also demonstrated a tool that has been used to measure the temperature of all the foods and how it has been used to train new employees, addressing issues from last semester.