Pace Esports' New Facility Opens On Pleasantville Campus
There is a new facility for Pace Athletics in Pleasantville.
Pace Esports officially opened its Esports Center last Tuesday. The Burt and Hedda Hurvich Esports Center sits in what was previously the 3rd-floor lounge of Elm Hall and will serve members of the team who live on and commute to the Pleasantville Campus.
A ceremony was held for the grand opening in the Elm lobby. In attendance were Pace President Martin Krislov, Athletics Director Mark Brown, and special guests Burt and Hedda Hurvich, namesakes of the new Esports Center.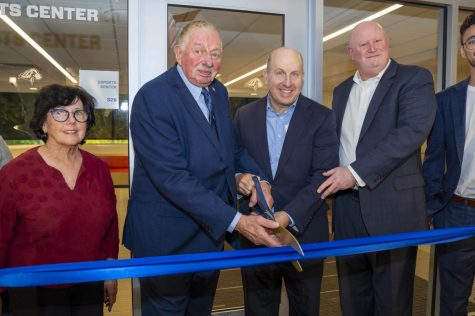 Pace Directors of Esports Jesse Bodony and Julia Cardillo '22 were on location for the arena's debut. About 10 members of the Esports Team were present to see their new home for match day.
Statements were read first by Brown, followed by Krislov, Bodony, and lastly Mr. Hurvich.
The ceremony was moved to the 3rd floor for the actual ribbon cutting of the new Burt And Hedda Hurvich Esports Center. Mr. Hurvich did the honors with the scissors and the group toured the new facilities. Players came up soon after.
Inside are 5 gaming computers furnished with Pace-branded gaming chairs, blue-lit computer mice, and keyboard pads. Both walls had a sticker of the Pace Esports logo with the left one painted blue.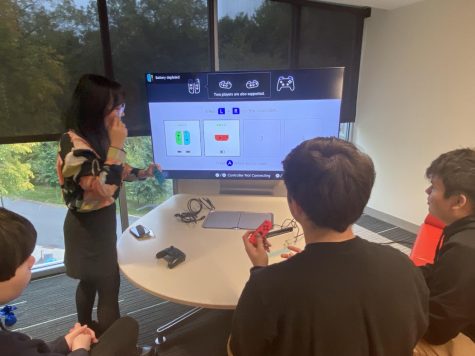 Remnants of the former lounge remain as the pre-existing circular couches now have Nintendo Switches plugged into the tv for Mario Kart and Super Smash Bros.
Pace Esports has already had success. Notably, the Super Smash Bros Ultimate Gold II Team won the Eastern Conference Athletic Conference Championship last year.
The New York City campus' facility for Esports is currently under development. On April 14th this year, Bodony announced VIA the official Pace Esports discord that they, "officially signed the agreement with World Wide Technology to be the Pace Esports Founding Sponsor to the tune of $250,000!" he  continues  in the announcements channel: "The funds will be used for the development of our NYC Esports Center."