The Urban Male Initiative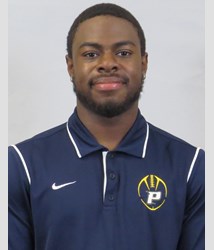 Unity and awareness are two key components when talking about the strength of individuals, especially in a world that feeds on the independent and the blind. The Urban Male Initiative strives to help promote both unity and awareness with the male students and staff on the Pleasantville campus.
The Urban Male Initiative is an organization that was created by Nick Lewis, a junior student-athlete, and Cornell Craig, Director of the Multicultural Affairs and Diversity programs, with the intent to form strong bonds among men of color.
"The Urban Male Initiative, or UMI for short, is for men of color to come talk and raise awareness," said Lewis.
The organization meets on Wednesdays from 12:15pm-1:15pm, and covers an array of topics that present themselves in the news, and that men deal with on a daily basis.
Last Wednesday, they were able to get a skype session going with Yusef Salaam, one of the Central Park Five, and had the chance to ask him questions they were unable to at the Martin Luther King Luncheon. The words of encouragement he gave them were priceless, and that's something that men need. In this day and age, men grow up putting a lot on themselves and rarely open up to anybody because society forces them to, and are viewed as weak if they do otherwise.
Yusef reminded them that it's okay to open up, and with strength comes some level of vulnerability. Advice like that is what young men need to hear, and an organization like the UMI is a perfect environment for that to take place. With the UMI, it's men helping each other out making it easier to open up because they can relate to each other on a personal level.
Despite the fact that one of the main purposes of the UMI is to give men of color the chance to talk, it's not closed off to just men of color. The UMI opens its doors to all men of all races. The fact that UMI welcomes all men with open arms allows them to have points of view that come from multiple backgrounds and experiences, and it helps the members of the organization keep their minds open.
UMI helps to make the unity and awareness much stronger between members, and after all, that is one of the main reasons why the organization was formed in the first place.
About the Writer
Josiah Darnell, Opinion Editor
I am a junior Digital Journalism major with a minor in sports  marketing. I'm currently the Opinion Editor of the Pace Chronicle. I'm from Queens, NY,...