Inside Alumni: Some Perspectives of the Quarantine Experience
A little over a week ago, I received the email announcing the Alumni Hall quarantine. At first, it was "just for the night." Nothing was definite. The DOH and Res Life were still working out what approach would be best. But I think part of me knew, deep down, that it was going to turn into something more than "just one night". And that little part of me was right. The next afternoon, I got the email confirming that the entire building would be quarantined for a full two weeks.
Quarantining an entire building has certainly been an adjustment for both the students and the staff. People from Res Life have been working round the clock to make sure that all Alumni residents are provided for- delivering food, care packages, mail, and medications, and hosting Zoom calls and events to keep us informed and entertained- and maintenance had to sanitize all the halls and communal spaces.
So far, things have been alright for me. Each morning a little after 9 a.m. I wake to the sound of Res Life knocking at my door to deliver breakfast. I slump out of bed, hobble over to the door, retrieve the food for my roommate and I, and then crawl back into bed. I officially begin my day about an hour or two later (I am a night owl, and I do not have morning classes, so I tend to sleep late). I get up, get dressed (because even though I'm not going anywhere, I still feel more productive if I'm wearing real clothes), eat the food they delivered, and get to work on whatever's on the agenda for the day, be it a virtual club meeting, an online class, or homework.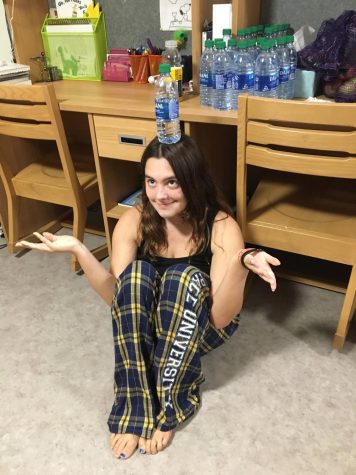 My schoolwork, virtual club meetings, and work for the Chronicle keeps me pretty busy, but I've been filling the free time that I do have by reading, working on pieces for short story contests, and having movie nights with my roommate.
In terms of classes, I normally only have two in-person anyway. One of them is a HyFlex, so it was not that hard to transition to online. My other class (Media Production I) was asynchronous last week in observance of Yom Kippur, so really, I'm only missing one in-person week there.
I do miss hanging out with friends and going for walks, especially since we have had some nice weather since quarantine started, and all the fall color is starting to come out. However, I keep my window open to get some fresh air and sunshine in the room, and I keep in touch with my friends and my relatives back home through texting, phone calls, and the occasional Zoom meeting. Conducting interviews for the Chronicle and attending meetings for my other clubs also helps me feel more connected to others during this time.
Other Alumni residents shared their own quarantine experiences.
Freshman Alumni resident April Tejeda was packing to go home for the weekend when she got the email regarding the impending quarantine. Her mom was supposed to pick her up the next morning, but instead, Tejeda had to call her and tell her that she would not be able to go.
"I was honestly freaking out," Tejeda says. "I was supposed to be with my family, and my dog has been sick, so I wanted to be able to see him."
Tejeda's quarantine routine consists of wake up, eat the breakfast Res Life delivered, class, lunch, homework, free time, dinner, and more free time before going to bed. When she is not doing schoolwork, she is watching Disney Plus, Netflix, or TikTok, or she connects with her friends through Facetime, phone calls, or texting.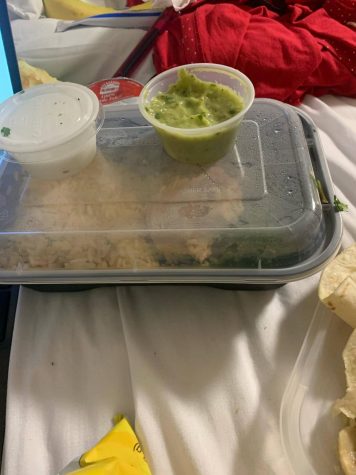 Tejeda's classes were all online to begin with, so she has not had to miss out on any in-person class experiences since going into quarantine. However, her weekend plans have taken a hit. She normally goes home to spend time with her family, and she had to cancel an upcoming trip to go apple picking with her cousins.
Overall, Tejeda says she has been hanging in there. She wishes that she could do laundry or have more freedom over her food options, but she is happy to have a fully stocked fridge and a microwave. (Res Life provided extra microwaves to rooms who did not have them since kitchens are unavailable.)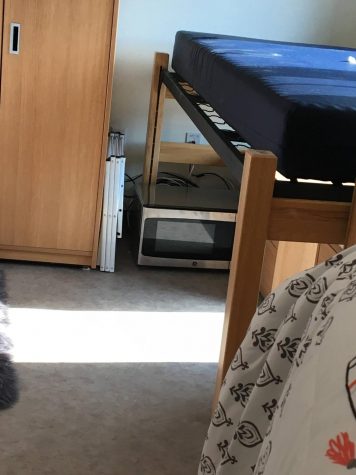 "I haven't had a panic attack or anything, so that's good," Tejeda says. "I've been holding up. They give us way too much water, but besides that, everything is fine."
Freshman Kaylie Barrett says that she and her roommate were shocked when they heard the announcement of the two-week lockdown
"I knew people were being reckless and not listening to social distance guidelines," Barrett says, "but I though they just got sent home. I didn't know that a bunch of them were just walking around with COVID."
Barrett has been following a similar routine of get up, eat the provided food, do online schoolwork, watch Netflix, and keep up with her friends through texting and social media. She says that she is used to quarantine, having dealt with it since March. However, she did have one in-person class on Friday that she can no longer attend, and she misses being able to get out of her room if she feels like it.
"I like being outside," Barrett says. "I'm an extrovert. I like nature. I can't go on my hikes. I can't go sit on a bench and do my homework or walk through the woods behind the farm."
Sophomore resident Kayla Slusser shares Barrett's wish to be able to get out and stretch her legs. As a member of Pace's volleyball team, Slusser is used to keeping active, between practices and lift exercises. Campus athletics were suspended before the Alumni quarantine went into effect. However, now she cannot even go for a run if she wanted to.
Slusser took a COVID test on the Tuesday before the lockdown. Even though her test results came back negative, she still had to quarantine with the rest of the building.
"It was upsetting to think that I might not even have [the virus], but I'm stuck in quarantine," Slusser said. "But thinking from a bigger picture now, we're doing this so we can prevent having to all go home… It sucks, but it's better for the long term than the short term."
After her daily dose of caffeine, Slusser attends her online classes and tries to get as much schoolwork done as possible. She sees the quarantine as a chance to get ahead on papers and midterm prep. When not doing her homework, Slusser reads, watches Netflix, or works on the paint-by-number kits she has in her room.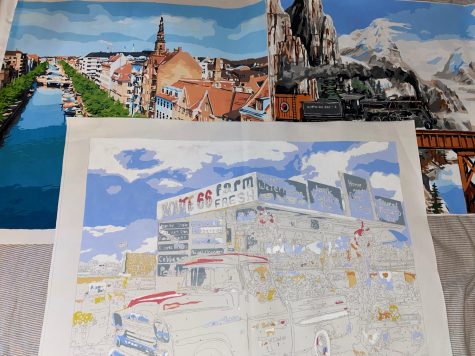 Slusser is only missing one in-person class, but she says she misses being able to spend time with her friends and get dinner with them. She has been keeping in touch through texting, Zoom game nights, and Netflix parties. Slusser is also a member of the Honors College, which has been hosting daily check-ins for its quarantined students.
"I haven't gone crazy yet," Slusser says. "I consider myself an introverted extrovert, so I like being around people, but I don't necessarily have to talk to them, which is kind of like the situation I've been left in. My suitemates are still here so I have that sort of human interaction, but I have the room to myself because my roommate went home. For me it kind of works. I've been holding up pretty well mentally I'd say."
Slusser's roommate was not the only student who opted to quarantine elsewhere. A few of my friends left last Friday to wait out their two weeks in their own houses. My roommate and I were unsure about what to do for a while. Ultimately, we decided to stay. Part of me was kind of paranoid about leaving. Last semester, I "went home for two weeks" and then couldn't come back. I already did the whole college-from-my-bedroom thing last semester, and I feel like I missed a lot of the college experience as a result. And while sitting in my dorm all day is not the college experience, it is still a college experience. Being here is still something.
Tejeda and Barrett both chose to stay on campus because they did not want to risk spreading the virus to their families. Tejeda was especially concerned, because her great uncle is living with her family, and she feared that he would be at greater risk of more severe symptoms.
Slusser lives in Colorado, so she does not have the option to go home.
"I had some friends who offered for me to go back with them," Slusser said, "but then I would just been invading someone's space, and if I was asymptomatic, there's the issue of accidentally bringing it back to their family… I thought it was best for me to just stay put."
Quarantine has not been ideal, but it is not so bad. Res Life has tried to be as accommodating as possible, and there are silver linings to the experience. Tejeda, Slusser, and I all agree that we have been more productive since quarantine started, since there is not much else we can do and there is not anywhere for us to go.
"I can focus more on my schoolwork and on myself," Slusser said. "There's this quote I remember seeing at the start of the whole pandemic that was 'don't rush back into things that aren't worth rushing back into.' So, having this time period where I can just sit here and focus on the things that are important to me will help me once I get out of this."
No one loves being stuck in their room all day, but based on my conversations with my fellow quarantiners, it seems like we understand why this needs to happen.
"I think this is pretty smart for the entire building," Barrett says. "It's annoying that some people are so hellbent on doing the most that they got COVID and now we have to do this. But I get it. I think Pace is smart to be strict with it, because the pandemic is serious. It's killing people."
Slusser hopes that this quarantine will be a wake-up call for Alumni residents and Pace students in general. She has seen plenty of people not wearing their masks or following social social distancing procedures, and she hopes that this quarantine will prompt them to be more cautious. She sends a huge thank you to all the staff members helping to make this quarantine work for residents.
Tejeda says that she thinks that Pace made a proactive decision by quarantining Alumni.
"They quarantined us after only 20 cases," Tejeda says. "It's better than waiting until there was a massive outbreak on campus. I think the future will look good for us hopefully."
I do not know what I expect to happen next. But I do know what I hope. I hope that things get better from here. I hope that we take all the right precautions and keep case numbers low. I hope that we all stay as healthy and safe as possible. I hope that a day comes when my friends and I can eat dinner together without a glass barrier between us, when we can sit in Perk together or visit each other's rooms, or when I can attend classes and clubs in person.
I do not know when this will happen. But it will. At some point.
Until then, all we can do is hang in there, hold onto hope, and wear our masks!