Pace Football Team's New Offensive Identity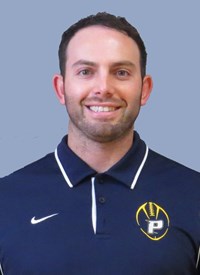 Kwadar Ray, Managing Editor
September 23, 2017|172 Views
Pace's football team defeated American International College (AIC) on Sep. 15 at Pace Stadium, improving its record to 2-1.
For the first time since 2008, Pace's football team has won multiple games in a season. However, the Setters' new offensive identity has been a significant piece to the team's recent success.
"We brought in a new offensive philosophy this year and it's been a system of accountability," says first-year offensive coordinator Andrew Dresner. "Guys understand when they're doing the right thing, when they're doing the wrong thing, what things they need to improve and they bought into that whole formula throughout camp and it has translated for us every Saturday and Friday night."
After winning the opening game of the season against Millersville University, the offense was shut out the next week in a 56-0 loss against Assumption College.
However, unlike the 2015 team, which also won its first game of the season but went on to lose every game thereafter, the 2017 team showed composure and bounced back after their first loss with a thrilling 24-23 win against AIC.
"You really take the positives out of a loss," Dresner said. "There were some good things that we did in the loss and it was more about finishing things that we did that looked good on film. We knew if we focused on those things and if we could get those things done, it would put us in a better position to win the game. And we did that."
Unlike past teams, the Setters showed poise in the clutch by scoring a pair of touchdowns with five minutes reaming in the game.
"There was no poor body language, no looking at somebody else asking, 'Who's going to make a play?' The guys looked at each other and said, 'We got this,'" Dresner said.
After the game, Pace President Marvin Krislov appeared in the locker room to ecstatically celebrate the win with players and coaches.
"For the president to be there to experience that with us, it's a really cool deal for them to be in the locker room to see him and see the type of support that he gives on a daily basis, so that was awesome," Dresner said.
Seeing President Krislov's and the entire university's support for the program reminded Dresner exactly why he came to Pace in the first place.
"When you come here on an interview, you see how much dedication they put towards athletics and how much support they put behind it with the new facilities and the staffing," he said. "The program is close to being turned around here and you could see that right away when you walk in the door."
Because the 2017 football team has been winning as many games in a three-game span as the 2012-2016 teams won combined in a 53-game span, it would be beyond understandable if the coaches and players began to sing their own praises.
However, Dresner says he and the players are remaining humble and taking the season week by week.
"We put the film behind us and by Sunday, that game is over and we move on to the next week because now it's going to be a different opponent, different personnel, different things that we need to do to prepare to win the football game," he said. "So, come Monday morning these guys are ready to work for the next week and we're able to move on pretty early after a win."