Men's Basketball Excited for Challenging Schedule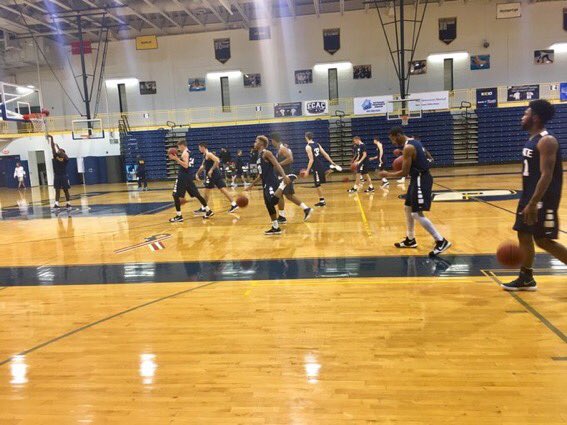 The fact that talent is a necessity in team sports to win games is not a shocker. However, what is equally as important is unity and selflessness.
Pace Men's Basketball Team, whose schedule was released on Oct. 5, believes unity and staying together will lead to the success the program has long quested for.
"If we lay down the foundation of hard work, caring about each other and putting our heart and soul into this season, then from there all the chips will fall," says third-year head coach Matt Healing.
Healing says the team standing tall and being proud of one another is the first step in the right direction to building a winning culture. However, he also recognized he needed to bring in some winners from elsewhere to help the team.
"I wanted to bring in winners and guys who i thought had a competitive fire to them and wanted to see their teammates succeed," Healing said.
New talent brought to the team includes Austin Gilbertson, who comes from a program that won four consecutive championships at Trinity High School in Camp Hill, PA.
"We all have one common goal and its to win," Gilbertson said. "And we realize winning down the road doesn't start in the first game, it starts right now. Winning in practice is what's going to lead to us coming down the stretch and winning big games in the NE-10 and eventually the tournament."
The Setters are facing quite the difficult challenge with eight games against 2017 NCAA Tournament teams on the schedule and the usual challenge of playing stiff competition late in the season in the NE-10.
"I've seen over the past few years that our schedule is a grind because there are a lot of good Division-II teams in the region that makes our conference challenging," Healing said. "The NE-10 is tough every year. Every night is a battle and if we don't come with our A games, it's going to be tough for us."
Greg Poleon, a Junior transfer from Coffeyville Community College in Coffeyville, KS, says he is thrilled to face the challenges the NE-10 presents.
"The NE-10 is tough and those teams are really good," he said. "But personally, I'm excited to play those guys and see how good we are and I think we can beat most of those teams."
Gilbertson says the difficult schedule is what he and his teammates signed up for when they committed to Pace.
"We came to this program and league because we knew everyone was going to be good and we're here because we love to play basketball and compete," he said. "Why would you come to a program if you're not playing the best teams?"
With new personnel joining the team, Coach Healing says he is adding new elements to the playbook that will not only benefit newcomers, but the entire team.
"There's some elements we kept the same from last season, but we also added new elements," Healing said. "The new things we've put in such as spreading out the offense more, attacking the basket and having an overall faster offense has been well received by our returners and the new guys are picking everything up so far too."
Catch the Setters in action during their home opener against rival Adelphi University on Nov. 15 at the Goldstein Fitness Center.