The Unbreakable Bond of Geena Rosalbo and Gabriella Rubin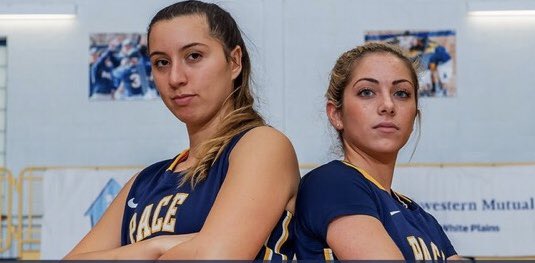 Kwadar Ray, Managing Editor
February 24, 2018|240 Views
One does not have to be an exceptional observer to see that Geena Rosalbo and Gabriella Rubin, the senior captains of Pace women's basketball team, have a shatterproof relationship.
The two are both fiery competitors, they can effortlessly finish each other's sentences, and they're even averaging the same amount of points this season at 9.1.
While the bond Rosalbo and Rubin have developed during their four years at Pace is self-evident, it was not always sunshine and cheerfulness for the two Staten Island natives.
Rosalbo and Rubin played for rival programs in high school while chasing for the common goal of a championship. The two did not personally know one another, but certainly knew of one another.
"We didn't really like each other too much at first," Rubin said. "We're both very competitive and we were some of the best on Staten Island, so there was a rivalry there."
Even when the two left high school and began their stints at Pace, there was no smooth sailing.
"We butted heads a lot," Rosalbo said. "We disagreed with each other all the time."
Their personalities constantly combated. Rosalbo entered Pace a shy and soft-spoken freshman, while Rubin was admittedly an outspoken newcomer who could let her emotions get the best of her from time to time.
"We'd be on the court and [Rosalbo] would say, 'catch that pass,' and I'd scream back, 'throw a better pass,'" Rubin laughed as she recalled their early disagreements.
Rosalbo and Rubin soon realized they could not be in constant conflict if they planned on being successful pieces to the Setters' puzzle.
Despite both athletes being as talented as they were, both playing on scholarships–Rubin even received a college letter from a Division-1 school–their freshman years were not stellar.
"We both realized we were struggling, so arguments about who was better or whatever had to go out the window," Rubin said. "We needed each other because we were both going through a lot. Freshman year is tough and it was definitely challenging for us, so we needed each other."
Rubin's personality that Rosalbo may have initially found a bit irritating, turned out to be a saving grace for her when senior captains would target her.
"During freshman year, she had my back when the seniors came at us," Rosalbo remembered. "I was very quiet and would not say anything, but she had my back. That is something I can remember. She always stood up for me."
"As the years went by, we got closer and now our bond is unbreakable," Rosalbo said.
By their junior campaigns, Rosalbo and Rubin had already developed a decent bond, which was beneficial due to the unexpected challenges the two would face that season.
Rubin tore her ACL 10 games into the season and Rosalbo learned she had appendicitis 19 games into the season.
The unfortunate fact that both could not complete their junior seasons, and ultimately missed their would-be first postseason run, actually helped the two grow closer.
"We definitely did talk to each other throughout our recovery," Rubin said. "We had to stick together, so that definitely made us closer."
The partnership Rosaldo and Rubin developed has culminated to this season, where Rosalbo and Rubin entered the year as captains and the only seniors on the roster.
"We said to each other, 'This is our last year and we have to give it all and we need to make it count,'" Rosalbo said.
Under the leadership of head coach Carrie Seymour, along with the veteran leadership of Rosalbo and Rubin, the Setters have made their second straight postseason berth.
What has made this team more successful than the previous ones Rosalbo and Rubin have been on, is the fact they were both on board with the coaches.
"In the past, I would fight back or argue with the coaches and I feel like it takes a certain level of maturity to realize we have to work together," Rubin said. "We can't go back at them because they know what they're doing, so we just appreciate them and because of that, our team is very close."
Rosalbo and Rubin are now participating in their first postseason, while also staring the final days of their basketball careers in the eyes.
Rosalbo has played basketball since pre-K and Rubin has played since third grade. It is understandable that the only players remaining from the freshman class of 2014 are afraid of letting it all go.
"I think it will be very emotional," Rosalbo said. "It is hard to know that our college basketball days are ending. I'm going to miss competing, playing and being a part of the team because those are the people who we create memories with."
Rubin shared a similar sentiment.
"It's bittersweet because we're older now and we are starting to get ready for that next step, but we are not fully ready yet," she said. "This is all we know. Having a team who has your back and competing every day–it's our lifestyle. Like, even when we are off during the summer, we still have a routine that is always there. It is a lifestyle. When people say, 'ball is life,' they're not joking."