New QB Carlton Aiken on his Performance thus far and Expectations for Saturday's Game against Stonehill
Kwadar Ray , Managing Editor
September 27, 2018|426 Views
Pace football's game last Friday night against Assumption College was quarterback Carlton Aiken's first start – not only as a Setter, but in his collegiate career.
The junior transfer began his college play at Central Connecticut State and then transferred to Lackawanna College his sophomore season. At Lackawanna, Aiken played a variety of positions, including running back, wide receiver and wildcat quarterback. Due to his track-like speed, he was open to and capable of playing those positions.
However, Aiken desired to play quarterback, so he was grateful when he finally found a team that would allow him to utilize both his speed and throwing ability.  He showed off his versatility against Assumption, with 163 passing yards and 159 rushing yards. Aiken, who looks to solidify the starting job at quarterback, said he was not nervous for his very-first start.
"This far in my college experience, I only want an opportunity to go out and play," he said. "There was no real anxiety, it was just now I can finally show everybody what I can do. I just wanted to get on the field and show the coaches I can handle this and try to help the team win."
As a dual threat quarterback, Aiken can hurt defenses through the air and on the ground. One of the major highlights from last Friday's game was Aiken's 22-yard touchdown run on 4th down and 7 down by 21 points in the third quarter. In need of a big play, the Setters called a pass, but the play did not end the way it was intended.
"It was not a designed run," Aiken said. "We called a play that we thought was going to work. I tried to look off the safety but he stayed in the middle of the field so it took away the read, so by then I felt someone in my back, I took off to my right and in the moment it didn't feel as crazy as it was. I was just trying to make a play."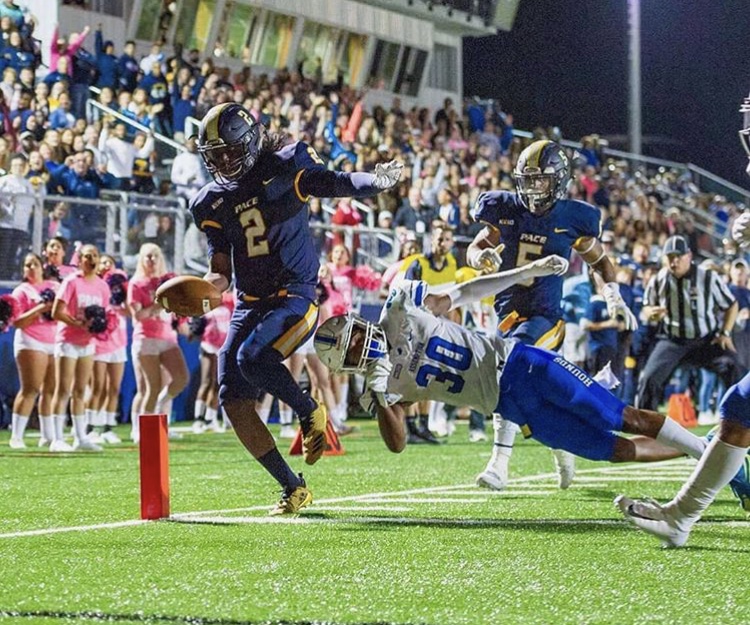 Even though Aiken did not lead the Setters to victory, his play impressed coaches enough to name him the starter for the Setters' upcoming game against 1-3 Stonehill College on Saturday afternoon at Pace Stadium. He looks to repeat a similar performance, which he says was aided by the play of his offensive weapons.
"I feel like everyone on the team and around the league knows [Jhalen Bien-Aime] is one of the best—if not the best—running back in the conference," he said. "So having the defense trying to focus on him and then try to focus on wide receivers Darius [Jones] on the outside or Ramir [Tann-Davis] on the outside—we have so many weapons on offense, it just opens it up for everybody. If the defense's focus is on me, it opens up for Jhalen, if they focus on Jhalen, it opens it up for the receivers. It is really hard to stop us, so that's why I am excited for the next game and keep the offense rolling."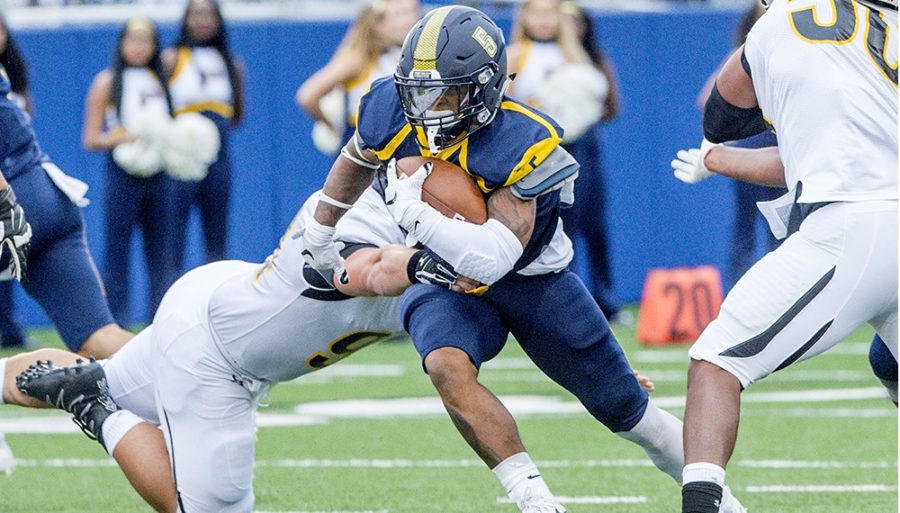 Despite flashes in the Assumption game, the Setters are aiming for a better performance than the one they put up in the 49-21 loss. Red zone inefficiency plagued them last Friday. The team had multiple trips inside the 20-yard line, but no points to show for it.
Coaches have drilled into the offensive players' heads that finishing drives and limiting penalties will be the key to the game. Ending the red zone woes may be a challenge for the Setters, as Stonehill's defense prides itself on stopping teams in the red zone.
"Defensively, they run the same defense that they have for a while," Aiken said. "It is pretty clear-cut: they want to take away the run and they want you to pass the ball on them. They bend but don't break. You can throw hitches on them, but they play back deep and we see that on film."
However, Aiken believes as long as there is proper execution, the Setters' offensive weapons are match-up nightmares for opposing defenses in the red zone.
"We have one of best receivers in the conference in the red zone Darius Jones, so we can take match ups all day with him," he said. "And Phil Thomas switched from wide receiver to tight end this year, so putting a linebacker on him is a mismatch in the red zone. Same thing with Marc Arboleda. And we can also hand the ball to [Antonio] Giannico, who ran over like three guys last week, so it's hard to try to stop him and the rest of the guys in the red zone."
Aiken provided the keys to a Setters victory that could lead the team to a 3-2 record and its first home victory.
"I think if we stay disciplined, if we take what the defense gives us, try not to force or over-complicate things and just move the ball down the field we should be okay," he said. "And I think if we play together as a team—offense, defense and special teams—then we can come away with a decisive victory."