Pace Field Hockey takes Pride in Successful Season
Pace field hockey is riding an incredible eleven-game winning streak which the team is looking to continue.
Head coach Kayte Kinsley has a right to be proud of the team and their ongoing successful season.
"Everyone is very supportive of each other," Kinsley stated. "They're overall great teammates who get excited when their teammates do well, and they know how to push each other so that they're working to their fullest potential. I think that's the start of it all."
It has been a remarkable season for the Setters. Not only is the team 14-1, but they are also unbeaten in the NE-10 conference at 10-0. Despite a difficult schedule, the team has 14 wins, including defeating seven teams with winning records. They have also defeated plenty of teams on the verge of winning records, including their most recent opponent Southern New Hampshire who sits at 7-7.
Their victory this past Tuesday against LIU Post was a hard-fought battle. Pace accomplished a two-goal comeback with no time left on the clock to bring the game into overtime. The winning goal was made by senior Halley Rose after nearly 8 minutes of extra play.
Even as the hero of the game, Rose believes that the victory was derived from her team's hard work.
"I think our team's work ethic plays a huge part in it," Rose said. "We're always working hard on and off the field."
As for next season, the great loss of this year's graduating class can potentially rock the team. The field hockey program is relatively new and Rose is just one of 12 seniors who started off on the team as a freshman, creating the first full four-year class.
"We're obviously losing a large group next year but I feel like our seniors right now have set a really good tone and a great example of how we want the program to be run from here on out," Kinsley states. "They take pride in it, they're the ones that started the program, so they want it to continue that way."
For Rose, it is understandably going to be rough to let go and no longer compete with teammates once it's all said and done.
"I think it's sad," said Rose. "It's a little bittersweet, we're the first graduating class which is awesome, but it's still sad."
The seniors will leave with a great team remaining with the underclassmen, including standout freshman goalie Grace Henderson. Coach Kinsley has great confidence in Henderson's abilities.
"She's kind of just moved right into that position with a lot of confidence," says Kinsley. "She's willing to learn and to teach the other goalies that she's with. I think she's doing a very great job."
Field hockey's next home matchup—preceded by a Halloween road game at Adelphi University—is against Merrimack College on Nov. 3. 
About the Contributor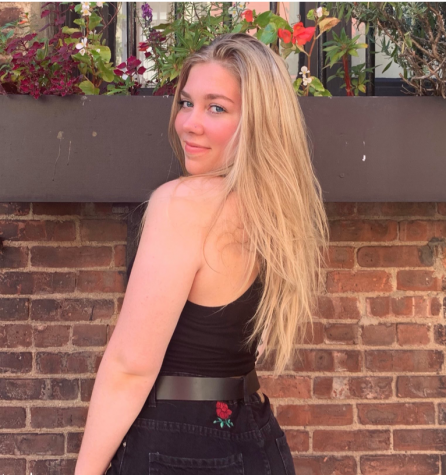 Sequoia Cumming, Editor In Chief
Sequoia Cumming is an honors-level senior majoring in Digital Journalism and minoring in Sports Media and Broadcasting. While starting as a contributing...