From D-II to the Pros: The Chances of a Pace Player Making it to the NFL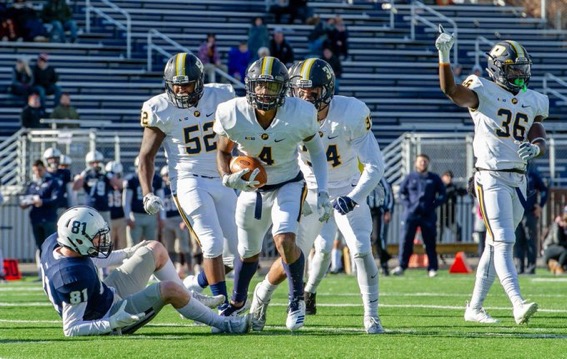 Following a 7-3 record, the most wins in the program's Division II history, exposure for the Pace football team is now more prevalent than ever before. With that exposure comes great opportunities for some of the Setters' top players looking to continue their football careers. 
Pace football players are currently adjusting to the NFL Draft process learning curve as scout's eye search for new blood.
When NFL scouts want to observe players, they contact the coaching staff, look at game film and highlight videos, and make an evaluation of the players. But the first and most important step for colleges is exposure. 
Head Coach Andrew Rondeau understands the importance of making the most of the Setters' spotlight.
"That's the whole trick for us right now," Rondeau began. "Can we get the attention of the scouts even though we're off the beaten path and we're not a Power 5 school? Can we get somebody to take a look at this player's skill set, his size, his abilities, his productivity, and how does that convert and translate against what is typical of a bigger program?"
Post-regular season, there are additional football games for NFL Draft prospects to test out their skills in a more competitive environment. Cornerback Andrew Roach and linebacker Brenton Allen are just two players among many who competed in the National Bowl this past weekend, an annual post-season college football all-star game, played in Daytona Beach, Florida. This is considered a huge opportunity for them to make themselves known to NFL scouts.
Rondeau knows that the path to being an NFL prospect is a long and foreign road for Pace players.
"At Pace, there has been no example for us," he states. "If we were to take a car ride somewhere for the first time, it would feel like a long ride, and that's what it seems like to our players who have never done it before. But if they know the way, and they can see reference points to guide them, then they know how to be a player that has the chance to play past college."
Roach believes he is lucky to have connections with other post-college players for advice and guidance.
"I know in the past two years I've had a lot of friends from back home go to the NFL and CFL [Canadian Football League]," says Roach. "I've just been asking them for advice and I've been paying attention to the process as they've gone through it."
Roach has been in contact with both NFL and CFL scouts and coaches, including representatives from the New York Giants, New York Jets, Detroit Lions, Edmonton Eskimos, Ottawa Redblacks, and Toronto Argonauts.
As a huge fan of the Giants, he says it is difficult to separate fandom from the draft process.
"It's hard not to be too big of a fan," Roach states. "I was talking to my mom last week and when the Giants came in she was like 'take a picture with the scout!' I was like 'no, mom, this is my job now.' It's kind of cool to actually see it come to fruition and know that you could be in camp with these guys in a couple months."
So what exactly are the chances for Pace football stars to become household names?
Right now, there are 83 former D-II football players on NFL rosters. Some rose to fame, including Super Bowl hero Malcolm Butler, Pro Bowl wide receiver Tyreek Hill, and Vikings wide receiver Adam Thielen, who broke the record this season for most consecutive 100-yard receiving games in NFL history. Others are rookies just searching for a chance. 
83 may seem like a large number, but there are still six NFL teams without any D-II representation on their rosters at all. The Detroit Lions, Green Bay Packers, New England Patriots, New Orleans Saints, San Francisco 49ers, and Washington Redskins had a few players during training camp, but not one made it through the final cut.
Allen feels uncertain about getting picked right away.
"I don't believe we'll definitely get drafted, but I know we got a shot," he says. "It's usually the big division schools that get players drafted. We have a good shot at being free-agents, so we got a good shot at going to the NFL, but if we don't make the NFL, there are other football leagues, CFL, AFL [Arena Football League], either way we're all going to continue playing football."
After the 2018 NFL Draft, nearly 500 rookies were signed to an undrafted free agent contract. A free agent is a player who is not under contract to any specific team, and could eventually sign with one.
Being a part of the free agent process would not be the end of the world, but talent from D-II schools, like Pace, often get overshadowed by Power 5 schools—the Atlantic Coast Conference, Big Ten Conference, Big 12 Conference, Pac-12 Conference, and Southeastern Conference. 
This is understandable considering the schools that make up these leagues are some of the most successful and renowned teams in the history of college football. They are also responsible for about 90% of the talent on the NFL's rosters.
Although, this is not to say that D-II players do not deserve a shot at post-college games. Many players pick D-II schools because they are closer to home, their educational background fit better with a smaller school, or they could have even suffered season-ending injuries in high school that stripped them of offers from D-I schools. Not to mention, their talent levels are high also, as they secured a spot on a college team in the first place.
When it comes to Pace football, it is obvious that the program is changing for the better. With a record-breaking season and spots for 11 players on Northeast-10 All-Conference teams, it is clear that the Setters individually have exceeded what was expected of them, and there is no turning back now. This is energy that can continue on for seasons to come.
Coach Rondeau poses a question to his team: "Will our younger players take the next step, and will our older ones be somebody who they can reference and model?"
Until the Spring arrives, along with Pro Days and the NFL Combine, the chances for Setter players to move forward is still up in the air, but Rondeau will always have unconditional support for them and the decisions they make.
"I just want our guys to chase their dreams, where they end up is really not for me to decide, or to judge," he explains. "I just want to advocate for those guys who worked hard and helped our team get better. I only want to support them."